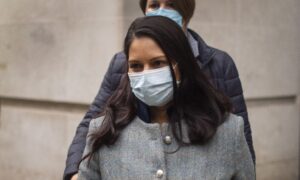 Interior Minister Priti Patel announced plans for a "fully digitized border" within five years, promising a major reform of Britain's "broken" immigration system.
In Monday's keynote, Patel vowed to provide a working system for the "law-abiding majority" and for those seeking to "abuse our hospitality and generous spirit." It was. She has also launched a US-style Electronic Travel Permit (ETA) that requires visitors to the UK to obtain an electronic permit before traveling. This makes borders safer with automatic checks that allow the government to "count people, count people." "It provides a much clearer picture of who is here and whether they should be," she said, adding that "and we act when they aren't there."
ETA is required for those who do not have a visa or immigrant status, but not for Irish citizens. The Minister has promised that the system will be operational by the end of 2025.
In a speech at a conference hosted by a Bright Blue and British Future think tank, Patel said: Everything else is unfair, it will not keep our country safe and will not meet the demands of the British people I serve. They want a new system that works for the law-abiding majority and for those who want to abuse our hospitality and generosity. Those that welcome those who need the sanctuary most and close the door to dangerous criminals. It attracts top talent from all over the world. Our immigration system is broken and we will fix it. "
She describes the "broken system" as "unwieldy," stating that its cost "has soared to £ 1 billion this year," and claims that it has been in the system since the 1970s. I vowed to get rid of it.
"We are chasing these gangsters," Patel said, adding that the plan would reduce the number of ways to enter illegally to crack down on smugglers. I repeated the plan to "confront with all my strength".
Asked how the changes would affect migrant numbers, she said she wasn't attracted to the "old words" about goals, but reforms were about the accuracy and "significant" simplification of the system. Insisted that.
The speech will take place earlier this month after the government plans to strengthen legislation denying asylum-seekers' refugee status through a safe country before arriving in the United Kingdom in a Queen's speech.
The proposal was criticized by the UN Refugee Organization and a charity that said it would betray Britain's historic tradition of protecting those fleeing persecution.
Patel argued that the country still wanted to help those who "flighted from persecution and oppression," but the "concept of open border" was "defective," and "the fact that immigrants have is undeniable. Yes, the meaning of the word, our country, immeasurable. "
After the speech, Refugee Council Chief Executive Officer Envel Solomon said, "Refugee protection is of great value to Britain and should always be," said Bella Sanky, head of detention. Refugees who are "traumatic" are "punished", calling the plan "miserable."
Liberal Democratic Party internal spokesman Alistair Carmichael warned that the plan could be "damaging" and could cause problems for employers hiring staff from abroad.
He also emphasized concerns previously raised about the "amazing" cost of border security technology failures after a three-year delay in home office plans to modernize computer systems.
In March, the Public Accounting Commission (PAC) said taxpayers had so far paid £ 173 million due to delays in digital services under the Border Program (DSAB), and who was allowed to staff border forces. He said he needed to use old technology to decide what to do. In the UK.
Flora Thompson