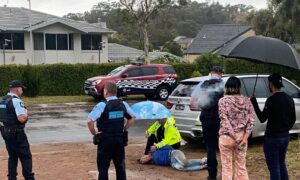 Gruesome footage of demonstrators being slammed to the ground by police outside the Iranian embassy sparked an internal investigation.
A video posted on social media shows Hamid Sotounzadeh being tackled to the ground and detained by police in Canberra.
A first-person video shows the officer and Sotoonzadeh yelling at each other before the officer tells the protesters to go back.
Sotoonzadeh is then shown answering: This is my right," before he was tackled.
A subsequent video posted on Instagram shows Sotoon Zadeh in a hospital bed with a neck brace.
He then spread out his hands and with a pen wrote the words "I will be back next week" and "IRGG (Islamic Revolutionary Guard Corps) terrorist".
Sotoonzadeh's friend Ali Beikzadeh, who was at the scene, told AAP legal action was being considered for what he described as an "illegal arrest".
He said his friend left him with fractures to his hip, neck and ribs.
Beikzadeh said his friends were suspected of being arrested on the 44th anniversary of the Islamic Republic's revolution despite peaceful protests over the past 16 weeks.
"Why they did it yesterday is exactly the question on the minds of all of us," he said.
Australian Federal Police said a person had been briefly detained for "aggressive behavior towards AFP members" outside the embassy.
A spokesperson said he was initially handcuffed but was released after complaining of back pain. An ambulance was called.
"AFP is aware that the media have been alerted that a man was injured during his arrest," the spokesman said.
"AFP seeks to confirm the veracity of these allegations and has referred the case to Professional Standards, AFP's internal integrity arm, for investigation."
A spokeswoman said police recognize the right to protest peacefully, but officers are "restricted when individuals endanger themselves or others, break the law, or fail to follow police instructions." "We will take action," he said.
A spokesperson for Attorney General Mark Dreyfuss told AAP he had sought advice from AFP on the case.
Greens Senator David Shoebridge said the arrest was "unnecessarily brutal".
"After viewing this video, I can say that an independent investigation into this violent arrest by AFP officers is urgently needed," he wrote on Twitter.
"Making the case even more troubling is that the Iranian community in Australia protested the appalling state violence in Iran and encountered violent police action on the streets of Canberra. "
Senator Shoebridge said members of the Iranian community in Australia had asked police to protect them from threats and intimidation from agents of the authoritarian state.
"But this case will make you wonder which side AFP is on," he said.
Sotounzadeh has been protesting outside the embassy for 16 weeks after the death of Mahsa Amini, a 22-year-old woman in Iran, at the hands of the country's morality police for not wearing a headscarf correctly.
Her death sparked widespread protests both in Iran and around the world, with women tearing off their headscarves and cutting their hair to protest the strict theocratic regime.
Lifeline 13 11 14
Beyond Blue 1300 22 4636