[ad_1]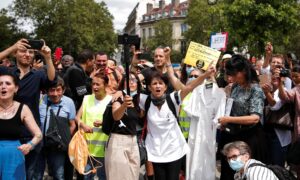 Paris-France riot police fired tear gas on Saturday after a clash occurred during a protest in central Paris against the COVID-19 curb and vaccination, local television reported.
Television photos show that police are trying to push the demonstrators back near the capital, Gallesin Lazar Station, after protesters pushed a police motorcycle with several police officers.
In another protest called by a far-right politician in western Paris, demonstrators against antivirus measures raised a flag stating "Stop dictatorship."
Protests were also planned throughout France in cities such as Marseille, Montpellier, Nantes and Toulouse.
French parliamentarians will vote this weekend on a bill drafted by the government to set health passes and force immunization of health care workers.
Matthias Bramon
[ad_2]