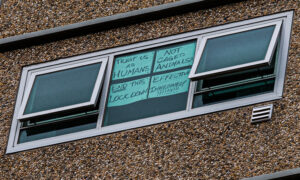 Melbourne's public housing resident is suing the Victoria State Government for assault and negligence allegations that occurred during the two-week blockade in July 2020.
Submitted request (pdf) At the Victorian Supreme Court on March 19, residents claimed to have been deprived of access to fresh air, movement, and occupational activities during the blockade. Residents also claim to have been left without medicine or important supplies and provided with "spoiled" food.
More than 3,000 residents across nine public housing towers in North Melbourne and Flemington were detained in their apartments from July 4th to July 9th or July 18th, 2020.
Chief plaintiff Idris Hassan, who lives with his wife and three children in one of North Melbourne's public housing towers, said four "partially thawed" after his family received nothing for three days. Claims to have been supplied with "made" sausage rolls. Sausage rolls were "unsuitable for human consumption" and did not take into account religious dietary requirements.
Hassan's nine-year-old son suffered an asthma attack after the drug ran out during the blockade, and the lawsuit alleged that his family lived on "nuts and beans."
Residents are also said to have been threatened with an additional 10 days of blockade if they did not "submit" to the COVID-19 test without being informed of their rights and obligations regarding the test.
The document also states that some police "acted in an intimidating or offensive manner, with a lack of cultural sensitivity."
In addition, a Victorian ombudsman review by Deborah Glass found in December 2020 that detaining residents without notice "seems to be in violation of the law."
Residents were not informed in advance that the blockade would take place. It was also filed in a class action proceeding.
"The decision not to inform the population of these issues was not dominated by practicality issues, but was a deliberate decision made to keep the population from going elsewhere." Is claimed.
However, in response to the Ombudsman's report, the state government denied the allegations, stating that it "acted legally and within the applicable legislative framework."
"Through this pandemic, the government made very difficult decisions based on data and health advice, but at the forefront of all that was the safety and well-being of the Victorian people," the state government said. States as follows. statement..
"Early response was not perfect, especially when the process was established, but hundreds of people work day and night to ensure the safety of the population and access to food and health care. Was there.
"When the population tests were completed five days later, it became clear that nearly 200 residents were infected with the coronavirus.
"As a result of the blockade, we were able to stop the acceleration of the incident and reduce it when other parts of Victoria were recording hundreds of new active incidents each day."
According to a proceeding filed by AdvocateMe's lawyer Serene Taffaha, Victoria's Deputy Premier Annaliese van Diemen confirmed and signed the impact on human rights of the blockade before a press conference scheduled for 4 pm on July 4. It took 15 minutes to consider.
In the proceedings, alongside Van Dimen, Deputy Public Health Commander Finromanes, Police Commissioner Shane Patton, and Victoria are listed as defendants.
It will be heard in the Supreme Court in June.
AAP contributed to this report.