[ad_1]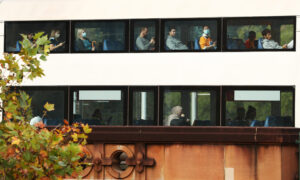 The Rail, Tram and Bus Coalition (RTBU) has expressed concern about plans to install video recording devices on all Australian trains, saying it will lead to a "big brother-style" surveillance system.

The National Railroad Safety Regulatory Authority (ONRSR) has presented a proposal to require the use of CCTV cameras on trains at a meeting of federal, state, and territory transport ministers later this week.
ONRSR said the update will provide more information to prevent railroad accidents in Australia. This costs the Australian economy more than $ 500 million ($ 387 million) annually.
The presence of cameras may not prevent the incident, but "with audio and video recordings, investigators could potentially use mobile phones and other distraction-type events early in the investigation. Factors can be eliminated. "
According to an October 2020 office report, this information is safe by enabling the development of new or improved means such as technology solutions, train cabin design, driver and crew training and procedures. Can increase the chances and consequences of railroad accidents.
Mark Diamond, RTBU's national secretary, said the union was deeply concerned about the impact of continuous video surveillance on workers' mental health.
"Simply put, regulator proposals are rigorous and dangerous.
"We are concerned that" safety "is being used as a stalker horse to implement a big brother-style surveillance system to monitor and discipline workers.
"The train cabin is a workplace, but it also serves as a mobile dining room, changing clothes, and a private conversation space.
"No other Australian worker accepts this level of micro-surveillance in their daily work, not to mention personal time, as acceptable," said Diamond.
He said RTBU opposed recording devices but was ready to accept them under harsh conditions.
"If the purpose of the essential recording device is to assist in the investigation of safety accidents, it should use all of those records," he added.
[ad_2]