[ad_1]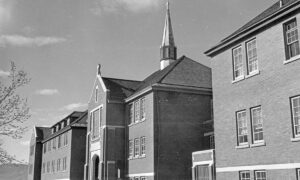 Commentary
In the past six weeks or so, popular newspapers in Canada and around the world have reported that 215 tombs have been found on the grounds of the former Kamloops Indian Residential School and that the number of tombs is increasing on other residential school sites. It was full of commentary. Nationwide.
There are three headings that explain what is being said: "" Unthinkable "Discovery in Canada as the Body of 215 Children Buried Near a Housing School" (CNN), "Camloops Housing School" A prominent example of the violence given to the discovery of children's bodies in Indigenous Peoples (Globe and Mail), and "Awesome History": Mass graves of indigenous children reported in Canada (New York Times).
Like other Canadians, my heart is full of sadness for indigenous children who died in housing schools. In the past I worked in an Anglican residence that accommodates indigenous students, so it hits me even deeper.
To put these findings in the background, we confirmed that the Truth Commission (TRC) report mentions illness, death, and graveyards. The report lists 143 residential schools that were operated by TRC for various periods throughout Canada during the 113 years (1883-1996). This shows that in 1931, about 37 percent of school-age indigenous children enrolled in these schools. The other two-thirds attended full-time school or never attended school. The report also shows that between 1944 and 1945, approximately 53.9% of all indigenous students enrolled in school were enrolled in residential schools and the rest were enrolled in full-time schools.
Nevertheless, about 150,000 indigenous, Inuit, and Metis students lived in these residential schools. And sadly, indigenous children were more likely to die than non-indigenous children. They were weakly immune to the infectious diseases brought to North America by immigrants. The TRC report also points to the federal government's failure to establish and implement appropriate standards, and to properly fund schools.
The report identified 3,201 children who died while attending housing school, but Murray Sinclair, the Supreme Commissioner of the Truth Commission of Canada, said in an interview with the Canadian Press that up to 6,000 students. Said that he may have died. Since then, estimates have expanded exponentially.
Understand the history of Canada
To get a good understanding of our history, Canadians deserve the facts and thoughtful reflection on what happened to their dead children.
Ground penetrating radar results may be suggestive, but not definitive. Proving that there are indigenous children's graves requires much more rigorous forensic work.
There are many possibilities for these tombs. It is necessary to understand what was the cause of death, whether it was due to negligence, malice, or simply a member of the community who buried the dead, including children, in a graveyard set up in a housing school.
Many of the church-run residential schools had chapels and graveyards, the ultimate resting place for both indigenous and non-indigenous parishioners. The chapel served as a place to worship the locals, and the community buried the family in the cemetery.
According to TRC reports, housing school mortality was highest in the late 19th and early 20th centuries, with tuberculosis being the most common cause, accounting for nearly 50% of deaths, influenza, pneumonia, lung disease and meningitis. The flame, followed by the heart. Illness, grunting cough, typhoid fever. As you stroll through the old cemetery, Canadians remember that during that time their lives were shorter and more brutal than they are today.
Fortunately, over the last 100 years, Canadian child mortality has declined significantly due to improved treatment and water and sewage systems. Canada is still making considerable efforts to reduce the mortality rate of indigenous children in particular.
Advance
When seriously thinking about the death of a child in a housing school, and before reaching a conclusion, you need to obtain valid evidence. This means that experienced forensic archaeologists need to excavate tombs, identify archaeological sites and classify them appropriately. To be credible, the report must be published in a reputable monograph series, by potentially self-serving organizations such as the federal government and religious orders that managed some schools. There is none.
Canadians need solid, verifiable evidence to understand the history of housing schools and to fully understand the lives of students attending these institutions.
For now, federal governments, indigenous peoples, and churches need to cooperate with a growing number of site forensic investigations across the country. As many reports suggest, governments, churches, and retired employees resist disclosing this evidence if children die of unnatural causes and are inadvertently buried in unmarked graves. Canadians need to know the facts, even if they may.
The TRC report recommends creating a burial place registry and recording and commemorating the names of all deceased children. Canadians do not disagree with this recommendation.
The truth is too important to leave to journalism speculation and barbaric criticism. As the Truth Commission says, truth is a necessary prerequisite for reconciliation and requires serious debate.
Rodney A. Clifton lived in two residential schools where he worked as a supervisor for an older boy at Stringer Hall in Inuvik. He is an emeritus professor at the University of Manitoba and a senior researcher at the Frontier Center for Public Policy. His latest book, edited by Mark De Wolf, is From Truth Comes Reconciliation: An Assessment of the Truth and Reconciliation Commission Report (Winnipeg, Manitoba, Frontier Public Policy Center, 2021). Email: [email protected]
The views expressed in this article are those of the author and do not necessarily reflect the views of The Epoch Times.
[ad_2]