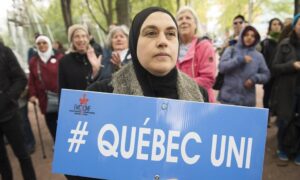 The Montreal-Quebec Superior Court has largely upheld state legislation prohibiting certain public sector workers from wearing religious symbols at work.
However, Judge Mark Andre Blanchard has ruled that certain provisions of the law are unconstitutional because they relate to the UK Board of Education.
The judge also withdrew the ban on parliamentarians wearing face covers.
Bill 21 was adopted in June 2019, where teachers, police officers, judges and other public sector workers who are considered to be in an authoritative position wear symbols such as hijab, kippers and turbans at work. It is forbidden to do that.
In a ruling of nearly 240 pages, Blanchard concluded that Bill 21 "does not violate the architecture of the Constitution of Canada" or "does not violate the rule of law."
The law was used preemptively, despite the provisions of the Charter of Rights and Freedom, which protects the law from most court oppositions over infringement of basic rights.
Plaintiffs alleged that the specific guarantees they maintain, nevertheless, are not covered by the provisions in order to circumvent the provisions.
Blanchard nevertheless wrote that the use of clauses was excessive but legal.
"Current law does not allow legal attacks, but it is so broad that legislators' use of exemptions seems excessive," the ruling said.
He concluded that certain provisions of the bill violated Section 23 of the Charter, which guarantees minority language rights, but he refused to overturn the content of the law.
Plaintiffs exercised a guarantee of sexual equality, especially in Section 28 of the Charter, arguing that the law affects women, especially Muslim women who wear hijab, disproportionately.
Blanchard agrees with plaintiffs' allegation that "arguably" evidence shows that Islamic teachers are most affected by law, but the relevant parts of the Charter are nevertheless not covered by the provisions. I found that I didn't.
"Section 28 of the Canadian Charter, which guarantees equal rights for men and women, has no scope other than interpretation and does not independently invalidate the law," the judgment said.
In a series of Twitter messages, the English-language Montreal Board of Education said it was "delighted" with the decision to withdraw the relevant legal provisions.
"We respect the diversity of students and staff and respect their personal and religious rights guaranteed by both the Canadian and Quebec Rights Charters," wrote Board Chairman Joe Altna. I am.
"This law goes against what we teach and a culture that respects the rights of individuals and freedom of religion within English schools."