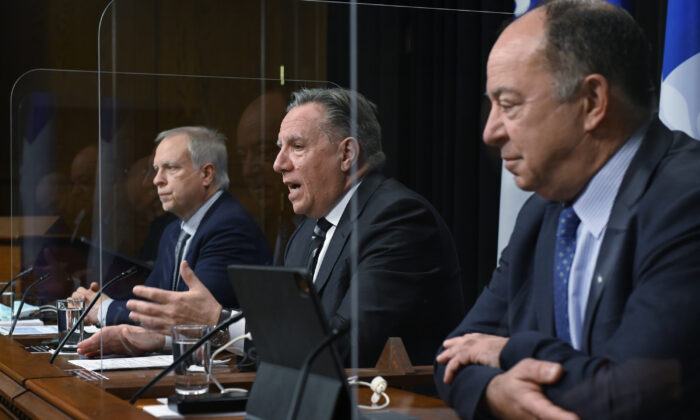 Quebec Prime Minister François Legor spoke at a news conference on the COVID-19 pandemic held at the Quebec City Parliament on February 1, 2022. Legault is adjacent to Luc Boileau, Interim Director of the Quebec Public Health Service on the left, and Christian Dubé, Minister of Health of Quebec. François Legoe states that he has abandoned the threat of taxing unvaccinated people. (Canadian Press / Jack Boisino)
Quebec's Prime Minister François Legor said on February 1 that the state would abandon plans to tax unvaccinated populations.
"My role is to bring the Quebec people together and continue to unite as people. This is why we are not making a contribution to health. I understand that this divides the Quebec people. And now we need to build a bridge to listen to each other. Quebecs must continue to unite, "Legaux said at a press conference in Quebec City.
On January 11, Legault announced plans to impose an additional "health contribution" on unvaccinated people because of the "fairness" of vaccinated people. He didn't say what the fine would be at the time, but said it was "serious."
The Prime Minister also announced the relaxation of pandemic restrictions, citing the need to balance "our mental health" and "our social cohesion." On February 14, groups of up to 25 will be able to resume sports and artistic activities for adults. The gym and spa will also be reopened with 50% capacity.
Legault said vaccination rates are the most important indicator of further resumption. He said that about 60 percent of adult Quebecs had been vaccinated with the COVID-19 vaccine three times, but called for a further increase in that proportion.
February 1 COVID-19 related hospitalization In Quebec, 207 new hospitalizations and 243 patients were discharged, down 36 from the previous day to 2,852. The number of people in the intensive care unit is 218, a decrease of 5 from the previous day. There were also 63 new deaths associated with the pandemic.