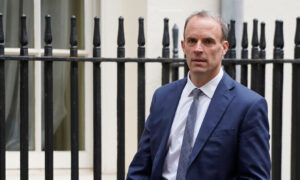 The threat of ISIS terrorist groups continues to spread in Africa, and British Foreign Minister Dominic Raab expects to promise £ 12.6 million ($ 17.5 million) to support efforts to counter ISIS in West Africa on Monday. I warned that it would be done.
Raab meets with his counterparts from more than 45 countries in Rome, including co-sponsor Italian Foreign Minister Luigi Di Maio and US Secretary of State Antony Blinken, at a World Union conference on Daesh, another name for ISIS. I will.
The funds will be used for a new program in the Lake Chad basin region of West Africa covering northeastern Nigeria, Cameroon, Niger and Chad.
West Africa (ISWA), an affiliate of ISIS, is responsible for serious violence in the region, the Foreign, Commonwealth Office (FCDO) said.
The FCDO said the new Conflict, Stability and Security Fund program would support region-led military combat against ISIS, counter its publicity and encourage fighters to leave terrorist groups.
After a coalition of virtual meetings in March, the FCDO said the number of attacks claimed by ISIS in Africa increased by more than a third between 2019 and 2020.
"Recent violence by affiliates includes attacks on aid workers in the Chad Basin area and the decapitation of civilians in Mozambique," the FCDO said in a statement.
Prior to the meeting on Monday, Raab said the state must work together to address the threat.
"Two years after Daesh's territorial defeat in Iraq and Syria, the Daesh threat and its hateful ideology have not disappeared. Worryingly, as it continues to grow in Africa, we work with our coalition partners. And we have to fight that toxic propaganda in every way, "Rab said in a statement.
"We are working side by side with our African partners to tackle the growing threat from Daesh-linked groups throughout Africa, especially in the Chad Basin," he added.
Raab hopes to call on Foreign Ministers to "target long-term challenges abused by those who adore violence and terrorism" and "make sure Daesh does not have a safe haven." It has been.
"It will take any opportunity to reestablish itself," says Rab.
The meeting in Rome on Monday is the first time that the Foreign Ministers of the Global Coalition have met in person since November 2019.
PA contributed to this report.