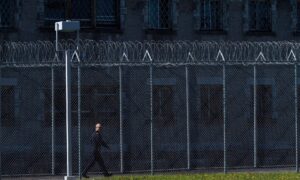 Commentary
Manitoba and Saskatchewan Justice Ministers Urgently call The federal government is calling for "a bail reform summit to address the rising levels of violence facing Canadians." Other state justice ministers have expressed similar concerns.
what's going on?
Our current concern is bail reform. But this is part of the Supreme Court and the federal government's ongoing race-based strategy to try to reduce high incarceration rates for Indigenous criminals (and currently black criminal) Release Indigenous Peoples with records of violence that others will not release, give Indigenous offenders shorter prison sentences than others, and release dangerous offenders on parole or simply imprison them for acts of violence. By the simple and wrong method of not using punishment at all. crime.
Recent examples of Indigenous criminals committing violent crimes should have definitely gone to jail. Son example. Sanderson has a terrible record and would almost certainly have been in prison if he hadn't been a native. It's hard to see how a federal strategy that leads to the killing of indigenous people could be said to be helping them. The majority of violent indigenous male and female victims are indigenous.
Sanderson's case is one of many, including the recent murder of a police officer by a native who shouldn't be on the street. These are just two of the many cases the state justice ministers have sounded the alarm about.
Race-based release and sentencing strategies are fundamentally flawed. The idea that "systemic racism" is what causes so many Indigenous and Black criminals to end up in the justice system is simply not true. The fact is that a disproportionate number of Indigenous peoples and black men commit crimes. That's why so many people are in prison. It wasn't "systemic racism" or "poverty" that angered them. The fact that the majority of Indigenous and black people, including low-income people, do not commit crimes is proof that the "systemic racism" and "poverty" theories are false.
To illustrate the weakness of this reasoning, consider the fact that there are far more men than women in prison. Does this imbalance mean there is something wrong with the system, so we need to get more men out of prison or more women in to even out the numbers?
Or for an ethnic group whose inmate numbers are underrepresented, by incarcerating more inmates? Chinese Canadians are underrepresented in our prisons. . Does it make sense to adopt policies that result in more Chinese Canadians being incarcerated to even out the numbers? And it seems.
These "solutions" are obviously silly, but that's what they're trying to do.
It all goes back to the Gladue incident. A well-intentioned Supreme Court has attempted to impose a race-based selective sentencing system to address the problem of over-representation of Indigenous peoples in Canadian prisons. A complex sentencing formula that applies only to Indigenous offenders has just been crafted by the courts. In principle, Indigenous offenders will receive lighter sentences than non-Indigenous offenders.
Ottawa has taken this up and amended its penal code accordingly. But the fact that incarceration rates for indigenous peoples continue to rise despite these racial sentencing schemes is clear evidence that the strategy doesn't work. and they are overwhelmingly indigenous. Consider the message sent to an Indigenous victim of a serious assault watching her abuser escape prison if the non-Indigenous offender receives a prison sentence. The message is clear. She doesn't deserve as much as non-Indigenous victims. Or think about the families of the Miles Sanderson murder victims. How were they helped by the liberation of the monsters who were there only to kill them because they were natives?
But despite the fact that race-based sentencing was a disastrous failure, this failed system is accelerating. Indigenous criminals like Miles Sanderson have been released on bail or parole despite their violent records in situations where non-Indigenous criminals remain safe in prison. The truly dangerous people in Canada are preying on law-abiding Canadians. Most of them are indigenous.
How Is It Helping Indigenous Peoples? Is it fair for everyone? And how can a system based on race be called "justice"?
"Justice" is one law for all.
Views expressed in this article are those of the author and do not necessarily reflect those of The Epoch Times.