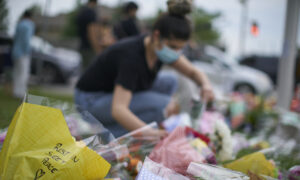 [London, Ontario]This morning, a half-mast of an Ontario government building was hoisted in honor of a family of five Muslims who had collapsed in what police described as intentional hate.
Four family members (three generations) were killed and a nine-year-old boy was hospitalized in a Sunday night attack in London, Ontario.
Relatives have identified 46-year-old Salman Ahzar, 44-year-old wife Madiha Salman, 15-year-old daughter Yumna Salman, and 74-year-old grandmother.
The couple's son, Fayez, was seriously injured but is expected to recover.
Nathaniel (Nate) Veltman, 20, from London, has been charged with four first-class murder charges and one attempted murder charge.
On Tuesday night, residents mourned their families and appeared in large numbers to support Fayez, flooding the streets outside the London Muslim Mosque.
Attending the banquet was 14-year-old Hatim Amin, who has been a close friend of Yumuna since she was only nine years old.
She described Younha as a coveted friend.
"She will just compliment you, she will notice your anxiety and deliberately give compliments," Amin said. "She was a very thoughtful person."
She said the two had just received their first dose of the COVID-19 vaccine and are looking forward to when they can safely reunite.
"She said she was very excited about Grade 10 to make more memories," said Amin. "My mom bought me a matching outfit from my home country Pakistan. We Was going to play a match, but couldn't do it, and that's really painful to me.
Amin said she was still wondering what it meant for her friend's shortened life.
"It wasn't a normal death. People die when they get older. They live their lives, and that time has passed and it's time to leave. It wasn't the time she went," Amin said.
Another friend of Yumna, 14-year-old Safiya Rawendy, said the alleged attack could serve as a warning to those who do not believe that Islamophobia actually exists in Canada. He said he wanted.
"I've always thought London was a safe place," Loendy said. "And I don't think anyone would have imagined this would happen in London. But I think these hate crimes are real and we have to take action against them. I think that having to do something is very impressive. "
She said attending the memorial service was one way to combat hatred.
"We are not afraid," she said. "We are standing here today, and we are standing strong for justice."