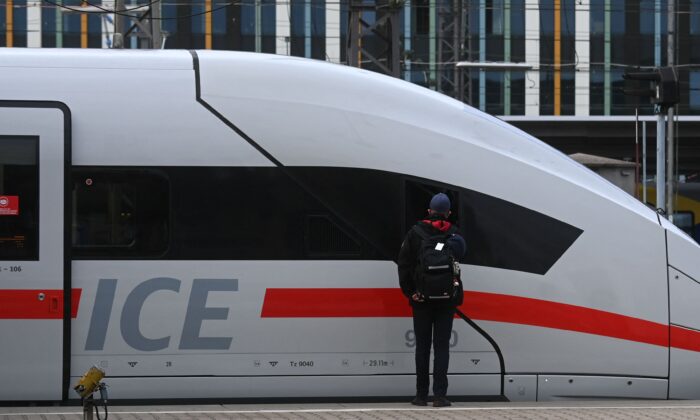 On August 23, 2021, an employee of Deutsche Bahn (DB), a German railway operator, stands next to the ICE high-speed train at a major railway station in Munich, southern Germany. (Christof Stache / AFP via Getty Images)
A 27-year-old man who stabbed four people with a knife on a Vienna-German high-speed train "randomly" attacked victims and showed signs of mental illness, officials said Sunday.
Police and investigators told reporters in Neumarkt in der Upper Palatinate that the attacker's intentions were still unknown, but there are currently no signs of terrorist motivation.
Shortly before 9am on Saturday, police received a call on the InterCity Express train 928 from Regensburg to Nuremberg in southeastern Germany, warning that a man with a knife was attacking passengers. rice field.
The suspect used an 8-centimeter (3.1-inch) folding knife to first chase a 26-year-old man on the same train, injuring his head. The suspect then attacked a 60-year-old man who was injured in the head and torso, and another 60-year-old man who was also injured.
At that point, the suspect fled to another train and stabbed a 39-year-old man in his upper body.
All four victims came from Regensburg and the nearby Passau area and were taken to a nearby hospital.
Police said a Syrian citizen came to Germany in 2014 and was granted asylum in 2016. He lived in Passau. Investigators said the initial assessment suggested that he was suffering from a mental illness.
A high-speed train was pulled into Zoeversdorf, a station between Regensburg and Nuremberg, and police officers immediately arrested the suspect "without resistance."