[ad_1]

With low interest rates and government incentives, housing construction has revived, driving the economic recovery and laying a solid foundation for future economic indicators.
Australian Bureau of Statistics revealed at Preliminary data Total housing construction increased 5.1% in the March quarter to $ 19 billion ($ 14.7 billion). This is led by remodeling and the construction of single-family homes.
This is the largest increase in about six years, more than 4% higher than last year.
Jobs done in Western Australia and Queensland increased by 14.4 percent and 10.2 percent, respectively, leading to a surge in housing construction.
Angela Reliclap, an economist at the Housing Industry Association, said the renovations that took place in the March quarter were record highs and are expected to continue to rise throughout the year.
"Home Builder was a major driver of this surge in activity, but other factors are also important. Record low interest rates and changing preferences for single-family homes are also important drivers." Lilik Lap said..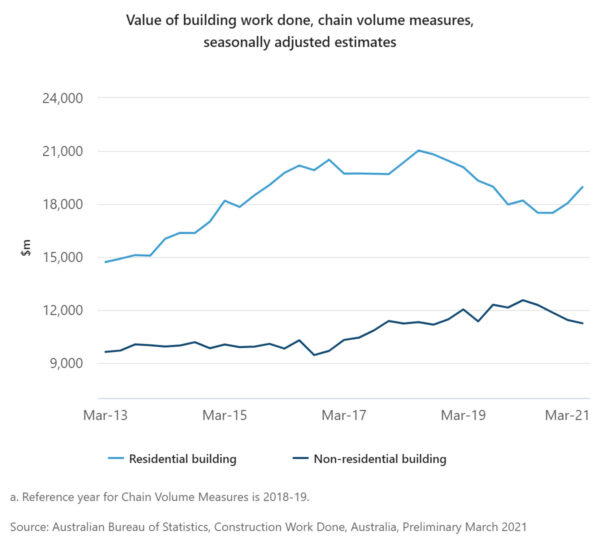 Nicholas Fernley, Senior Economist at BIS Oxford Economics, hopes HomeBuilder will continue to boost the economy throughout the year as construction approval from the scheme begins.
"Project delays and cost overruns are expected due to both labor and material capacity constraints." Fernley said AAP. "A significant amount of unprocessed work developed should keep the level of activity of homebuilders rising until 2022."
Increasing demand for new home construction has also raised prices for construction materials.
Real estate researcher CoreLogic found construction costs rose 0.8% in the March quarter. Construction prices have risen by less than 1% for the sixth straight quarter.
"Construction costs rose slightly slower than the average pace in the previous quarter, but construction costs will rise significantly in the coming quarters as both material and labor shortages put upward pressure on prices. May be recorded, "CoreLogic Research Director Tim Lawless said..
Meanwhile, the value of non-residential construction has fallen 1.6% ($ 11.2 billion), down 10.4% compared to the first quarter of last year.
Overall, the value of construction work done in the first quarter increased seasonally by 2.4%.
[ad_2]