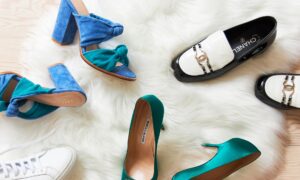 Sweat-stained running shoes, blown double pluggers, work boots that stink enough to kill a cat in 20 steps.
They are pure gold to recyclers and Australians are being urged to hand them over in honor of World Recycling Day on Saturday.
As countries move towards a circular economy, more and more niche recycling programs are emerging, and shoes are no exception.
The TreadLightly program, supported by the Australian Sporting Goods Association and recycler Save Our Soles, has already recycled more than 600,000 pairs of shoes.
But that's just a drop in the ocean, with 25 million sports shoes imported into Australia each year, according to the association.
Executive Director Sean Bajada says Australians should be aware of eligible footwear. You can recreate it.
"Shoes can be recycled, no matter how dirty or worn they are."
A network of retailers across Australia act as collection points for old shoes, which are then sent to Save our Soles for shredding.
Various components such as metals and fiber fluff are extracted and separated, and shoe waste is mixed with recycled tire rubber to create a new product.
According to Save our Soles, all materials are collected, recycled and manufactured in Australia.
Check the TreadLightly website for drop-off locations.
Footwear that can be recycled:
* Nearly all sports shoes, including sneakers, trainers, runners, and similar casual lifestyle shoes
* Foot boots, hiking boots, rubber boots, work boots (except steel cap types)
* string and slide
*Leather formal shoes, leather athletic shoes
The program will not accept these:
* Heels, wedges, pumps, ballet flats, leather dress boots
* business shoes
*steel cap boots