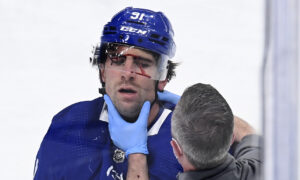 Toronto — Toronto Maple Leafs captain John Tavares was discharged Friday the day after he put his knees on his head and put ice on a stretcher.
After practice, Sheldon Keef said Tavares had a concussion and left indefinitely.
Tavares is under the supervision of a team doctor. He said in a statement that he was recovering at home and would support the team looking forward to his return to the lineup.
He was injured Thursday night when he lost 2-1 to the Montreal Canadiens in the opening round of the first round of the playoffs. Game 2 is Saturday in Toronto.
The 30-year-old Center collided with Bench Alot 10:29 in Montreal during the first period and was hit in the head when Corey Perry collapsed. Tavares raised his thumb when rolled from the ice.
He was admitted to St. Michael's Hospital overnight, where he was examined by the neurosurgery team and the club's medical director.
"I'm glad to know that everything is up, but it's definitely the moment you know your mind is a little competitive," Maple Leafs transfers Jason Spezza. "You have to think about his family and then look at it. It's a scary moment just to see a companion on the ice like that."
Montreal forward Eric Staal added: Everyone in the building, everyone on the ice. You don't want to see it. "
Canadian forward Paul Byron called it a "great relief" when he heard that Canadiens had been discharged.
"Honestly, it was hard to see last night," he said. "Such a great player, you don't want to see that part of the game. It just killed the mood of the link. It took a while to get started, and I think everyone felt the same. I will. "