Reporters Without Borders (RSF) said in a statement condemning the invasion that the Hong Kong government "encouraged" recent violent attacks on the city's Epoch Times printing press through its omissions.
Around 4 am on April 12, four armed men attacked the printing warehouse. They broke the equipment with a big hammer, threw away the construction debris, then escaped into a white van and stole the computer.
The incident lasted about two minutes, but caused enormous damage. The Hong Kong version was forced to shut down temporarily as it upgraded its security system for repairs.
Citing an arson terrorist attack on the same facility just a year and a half ago, the group urged authorities to punish intruders and restore media freedom.
"Hong Kong authorities are encouraging such violence by leaving unpunished previous attacks on journalists and creating a climate of suspicion against independent media," said Cédric Alviani, head of the RSF East Asia Bureau. Says.
He told Hong Kong Chief Executive Carrie Lam, "Ending the government's attacks threatening media independence, and providing full press freedom as stipulated in the basic law she is supposed to enforce. I asked him to recover.
Hong Kong's reputation for freedom of the press has plummeted over the past two decades, dropping from 18th in the RSF's Press Freedom Index to 80th in 2020. China is ranked 177th out of 180.
At least five other groups of journalists have also called on Hong Kong authorities to bring the perpetrators to justice.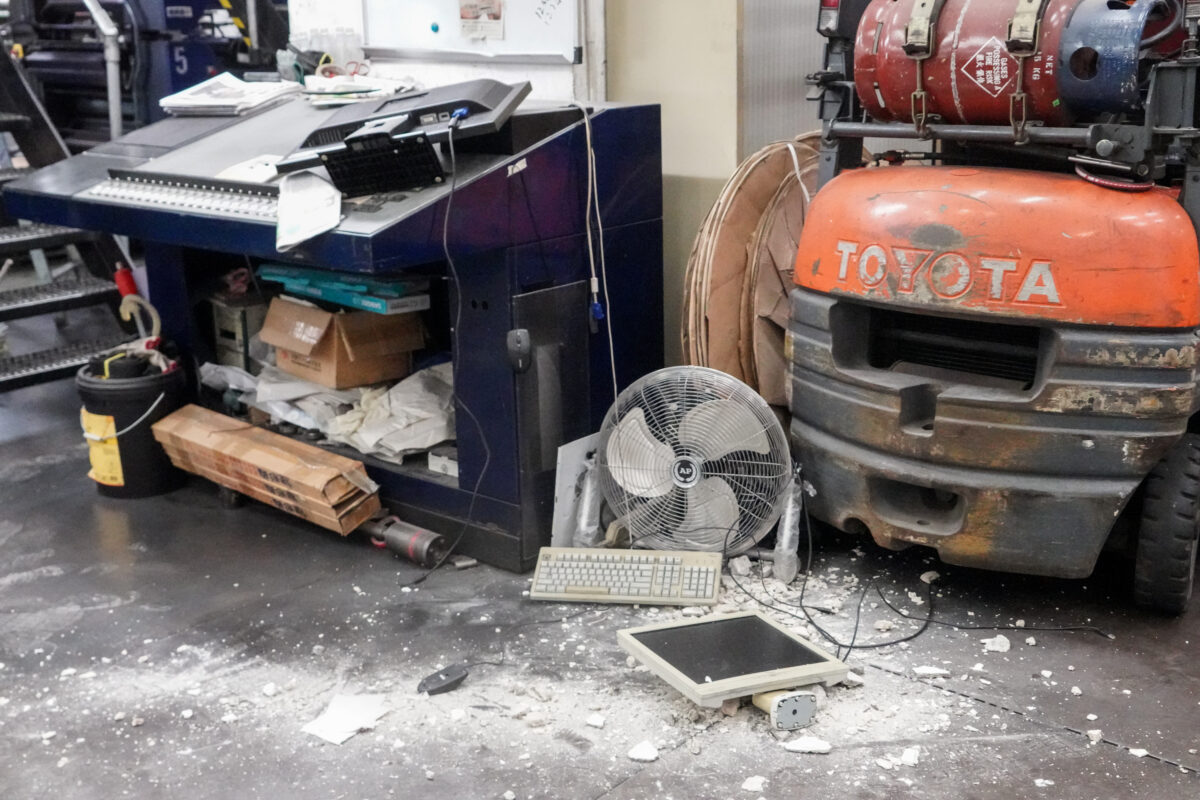 "The attack must be investigated completely and immediately by the authorities, and the authorities must be held responsible," said Scott Griffen, deputy director of the Vienna-based International Press Institute.
"We are resentful of this latest attack on the Epoch Times, which comes when the Chinese government systematically and cruelly deprives Hong Kong of its basic rights, including freedom of expression," Glyphen said. Said in an email. statement. "Attack on journalists and the media should be unacceptable and we look forward to swift action by the Hong Kong authorities."
Guo Jun, director of The Epoch Times Hong Kong, said he aims to resume printing by Friday, when the court decides on a major democratic activist.
"We will celebrate the Epoch Times when their presses will soon be back in operation in Hong Kong," said Ralph Norman (RS.C.).
"Tyranny prospers when you can't hear the voices of those who expose it," he told The Epoch Times.
"This was clearly an attempt to silence the Epoch Times, and I condemn the attack in the strongest possible terms," ​​he continued. "Around the world, the enemy of freedom of speech must meet with determination, resilience, and even louder."