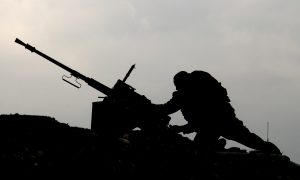 Jerusalem — Israeli forces say a projectile launched from the Gaza Strip landed in the southern part of the country on Thursday night, breaking a relatively calm week across the border.
There were no reports of damage or casualties. In and around the Negev desert town of Sderot, a siren rang to warn of the arrival of a rocket.
In response, Israeli aircraft attacked three facilities belonging to Hamas, a radical group that controls Gaza, early Friday. According to the military, airstrikes targeted weapons manufacturing sites, tunnels for smuggling weapons, and training sites.
No Palestinian group claimed responsibility for launching rockets from Palestinian landings. Israel usually accuses the Hamas group of violence emanating from Gaza.
The attack occurs at the end of Independence Day. Independence Day celebrates the founding of Israel after the end of the 1948 British Power of Attorney.
Hamas and Israel observe an informal ceasefire mediated by regional mediators, including Egypt and Qatar. Hamas states that Israel is not committed to a ceasefire condition that envisions a significant relaxation of Israel's economic restrictions on Gaza.