DOHA, Qatar—Cristiano Ronaldo closed his eyes, took a deep breath, and made World Cup history.
The Portuguese striker became the first male player to score a goal in five World Cups on a 65th-minute penalty in Thursday's 3-2 win over Ghana.
André Ayew equalized for Ghana after eight minutes, but João Felix regained the lead for Portugal in the 78th minute, with Rafael León adding a third. reduced.
Ronaldo, 37, was looking to showcase his talents to a potential new club after his contract with Manchester United expired this week. He took a challenge and fell, earning a penalty kick.
As the ball hit the back of the net and then ran away, a smiling Ronaldo performed his usual in-air leaps and turns. The crowd yelled his trademark "SI-UUU" as he pirouetted, but was attacked by his teammates.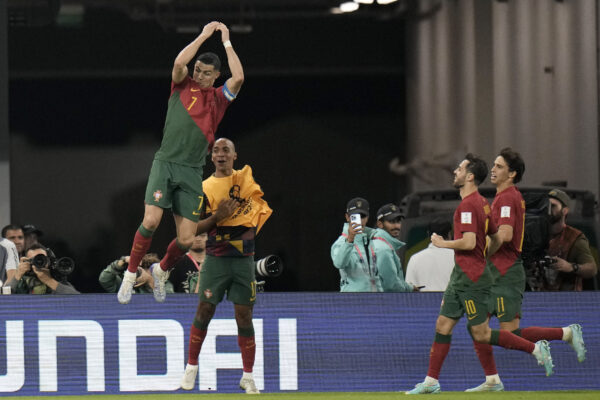 He has scored in every World Cup since the first World Cup in 2006 and holds the record for 118 goals in international competition.
It was a wild finish to a slow-burning World Cup match that ended with Portuguese defender Danilo clearing the ball from near the line in the ninth minute of stoppage time. Ronaldo sat on the bench after the substitution and put his hand on his head with a look of relief.
Unsurprisingly, Ronaldo played a central role at the start of the fifth and possibly last World Cup. Especially after Manchester's difficult preparations for the tournament, where he gave unauthorized tell-all interviews criticizing United's manager, owner and teammates. On Tuesday he parted ways with the English club. So he's in a shop window in Qatar.
Another scoring record adds brilliance to his résumé. A penalty against Iran in 2006 brought his World Cup goals tally to eight in his 18 appearances. He lifted the ball past Ghanaian goalkeeper Lawrence Athi with his latest spot kick after a long dramatic build-up to the penalty.
Bruno Fernandes arguably played a more important role in Portugal's victory.
Yet the Portuguese players lost their composure in the chaotic final minutes and almost threw it away. It features a comical scene where Bukari celebrates "SI-UUU" after Ronaldo's goal.
In the other Group H match, South Korea and Uruguay drew 0-0.
Steve Douglas