Fighting between Ukrainian and Russian forces this week has centered mainly on the southern region of Kherson, with both sides claiming to have recorded significant gains.
On October 20, Ukrainian forces, usually tight-lipped about ongoing operations, killed dozens of Russian troops and killed several in a recent attempt to break through Russian defenses at Kherson. He said that one Russian tank was destroyed.
But the day before, Russia's TASS news agency reported that the Ukrainian offensive in Kherson had been decisively repulsed.
"The situation in Kherson is completely under control," said Kirill Stremsov, the pro-Russian deputy governor of the region. "Our army has not retreated a single step."
According to the Russian Defense Ministry, more than 90 Ukrainian troops and nine combat vehicles were "eliminated" by Russian artillery fire as they tried to invade Russian fronts.
The Epoch Times was unable to confirm either side's claims.
The Kherson region, along with Donetsk, Luhansk and Zaporizhia, was incorporated into the Russian Federation late last month after referendums in all four regions.
Kyiv and its allies have rejected the referendum results, deeming the four regions illegally annexed by Russia. Ukrainian leaders have repeatedly vowed to reclaim all four of her territories by force.
Of the four regions, Kherson is considered the most strategically important because, together with the mouth of the Dnieper, it controls the only land route to the Crimea.
Most of Kherson, including the regional capital, was occupied by Russia and its local allies in the first weeks of Moscow's "special military operation" in Ukraine, which began almost eight months ago.
Earlier this week, the pro-Russian governor of Kherson said civilians in the war zone would be evacuated to the west bank of the Dnieper in anticipation of further attacks by Ukrainian forces.
After recording major advances in northeastern Kharkiv last month, Ukrainian forces have launched a limited counterattack along both the southern and eastern fronts, facing stiff Russian resistance.
Ukrainian offensive operations are likely to be hampered by the onset of autumn, which is usually accompanied by heavy rains, according to military experts.
In this regard, the Russian Air Force has launched regular patrol flights along the border of Belarus, a close ally of Moscow, a Minsk official said on October 20.
Last week, Russia began sending thousands of troops and military equipment to Belarus, Ukraine's immediate neighbor.
The fact that Kyiv is only 150 kilometers (93 miles) from the Belarusian border has sparked speculation that Russian troops deployed to Belarus could be used in future attacks on the Ukrainian capital. .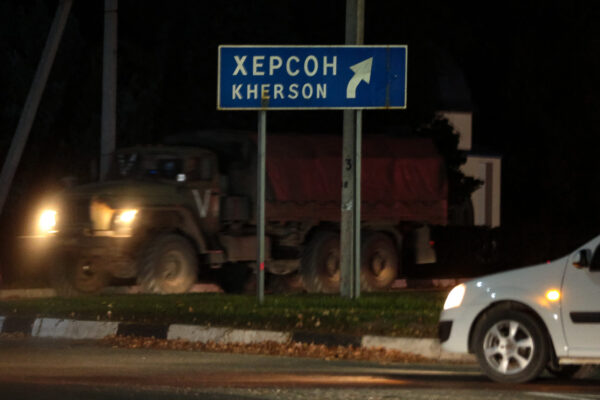 EU "Parties to the Disputes"
Meanwhile, Ukraine's Western allies have continued to pledge more support to Kyiv as continued artillery and drone attacks by Russia crippled the country's energy infrastructure.
On October 20, German Chancellor Olaf Scholz said Germany planned to train up to 5,000 Ukrainian troops within the framework of the European Union's training initiative.
The two-year program, approved by Brussels earlier this week, aims to train a total of 15,000 Ukrainian servicemen at training facilities in Poland and Germany.
"By spring, we will train a full brigade of up to 5,000 soldiers," Scholz told parliamentarians in Berlin.
"This underscores our readiness to join hands with our partners and participate in the long-term building of a strong Ukrainian army."
Russian Foreign Ministry spokeswoman Maria Zakharova said in response to the German Chancellor's statement that the European Union would effectively become a "party to the conflict" if the move was implemented.
Meanwhile, Russia continues its artillery and drone strikes against energy infrastructure deep within Ukrainian territory.
According to Kyiv officials, about 30% of Ukraine's power plants have shut down since October 10, causing a massive blackout across the country.
Ukrainian President Volodymyr Zelensky said in an evening speech on October 19 that "new damage has been done to critical infrastructure." "Today, three energy facilities were destroyed by the enemy."
The Russian Defense Ministry's daily briefing on October 19 appeared to confirm Zelensky's claims.
"Over the past 24 hours, Russian forces have continued to launch strikes with high-precision, long-range air and sea weapons against Ukraine's military controls and energy systems," the briefing read.
"All assigned targets have been neutralized," he added.
Intermittent fighting continued in all four areas, particularly in the form of artillery exchanges, but battlefield reports are almost impossible to verify.
Both sides often accuse the other of attacking civilian targets.
On October 20, TASS, citing pro-Russian sources in Luhansk, reported that more than 100 civilians had been killed by Ukrainian artillery shelling in the area since the conflict began on February 24. did.
Reuters and Associated Press contributed to this report.