Moscow — Russian aircraft manufacturers say they will announce new fighters of the future at the Moscow air show next week.
The new fighter, hidden under the tarpaulin, was photographed towed by a parking lot across the Zhukovskiy airfield on the outskirts of Moscow, where the MAKS-2021 International Aerospace Salon opens on Tuesday. Russian President Vladimir Putin will visit the opening of the show.
According to Russian media reports, the new jet was manufactured by Sukhoi aircraft manufacturer in a light tactical fighter development program.
Unlike Russia's latest Su-572 engine stealth fighter, the new aircraft is smaller and has one engine.
The name of the new military aircraft is unknown, and there is no information on its capabilities or prospects for deployment.
The Su-57 is manufactured for the US F-22 Rapta Stealth fighter, but unlike the US aircraft that have been in use since 2005, it has just begun mass production and has supersonic cruising capabilities. It is equipped with a new engine intended to provide. Speed ​​is still under development.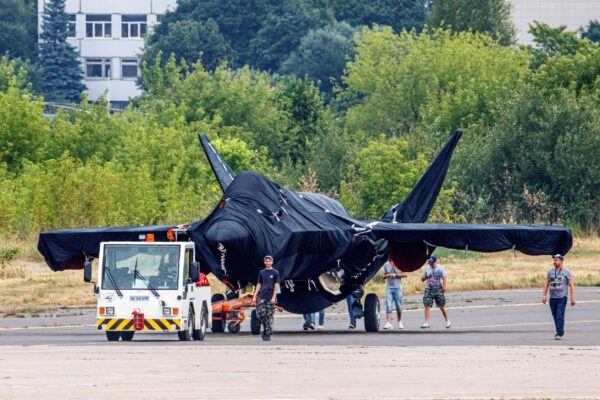 The new Russian military aircraft appears to be aimed at competing with the US F-35 Lightning II fighter, which was commissioned in 2015. Russia finally wants to offer new aircraft to foreign customers.
Rostec, a state-owned company that includes a Russian aircraft manufacturer, said a "fundamentally new military aircraft" would be unveiled at the show on Tuesday.
Following Rostec's announcement, Russian plane spotters rushed to Zhukovsky to take pictures of the new plane. This is the country's top military aircraft testing facility for western spies.
The Kremlin made the modernization of the country's army a top priority amid intense tensions in relations with the West, which sank to post-Cold War lows after Moscow annexed Ukraine's Crimean Peninsula in 2014. , And other stimulants.
Vladimir Isachenkov