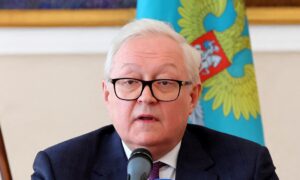 GENEVA—Russian Deputy Foreign Minister Sergey Ryabkov said on Thursday that Russia would not be the first to test nuclear weapons after Moscow suspended the New START nuclear weapons control treaty with the United States.
Speaking to reporters at the Russian delegation in Geneva after the conference on disarmament, Ryabkov said Russia would not conduct the test if Washington also refrained, but said Russia needed to prepare for the worst.
Ryabkov also accused the US of providing information to Ukraine on the location of strategic sites inside Russia and attacking them with drones.
In December, Russia's Engels air base near the city of Saratov, at least 600 kilometers (370 miles) from Ukrainian territory, home to part of a nuclear-capable strategic bomber fleet, came under a drone attack. . Ukraine did not claim responsibility for the attack, but celebrated it.