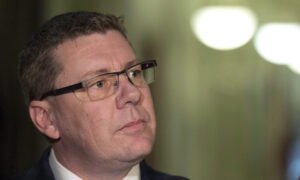 Congress has passed the Saskatchewan First Act (SFA), designed to give the state autonomy and jurisdiction over its natural resources.
"This is a major step forward in protecting our economic potential from federal overreach while continuing to build a strong and growing economy that benefits everyone at SK. It's growth that will help us," said Saskatchewan Premier Scott Moe. Said On Twitter March 17th
Bill 88 amends the Saskatchewan Constitution to affirm its autonomy in three areas of Canadian Constitution. Resources section: Exploration for non-renewable natural resources. Management of non-renewable forest resources. Operating facility for electrical energy production.
Additionally, SFA created an independent Economic Impact Assessment Court, tasked with assessing the impact of federal initiatives on state projects, businesses, and people.
The law protects the state from "constitutional overreach" by the federal government, Saskatchewan Minister of Justice and Attorney General Bronwyn Ayre. Said "We will always stand up for the people of Saskatchewan against policies that undermine economic potential and growth," she said in a March 16 release.
Eyre has previously said the federal government is "violating" state jurisdiction through federal carbon taxes, environmental impact laws, and incoming presidential orders. "Just Transition" Act We aim to transition to a low-carbon economy.
However, indigenous groups say the SFA violates their rights.
Indigenous groups opposed
According to the state, amendments to the bill were introduced by Athabasca MLA Jim Lemaigur after discussions with First Nations and Métis organizations, saying there was nothing in the law that abolished or belittled Aboriginal and Convention rights. .
"Treaty rights are already enshrined and protected in every state law, as is Article 35 of the Federal Constitution Act 1982," Ayer said. "However, I welcome the amendments from the members of Athabasca, which provide further clarity and certainty that our government will respect the rights of the treaty."
Several Indigenous leaders, including members of the Sovereign Indigenous Peoples League and Metis Nation Saskatchewan, attended the Saskatchewan Legislature on Thursday to voice their dissatisfaction with the passage of Bill 88.
SFA is Section 35 Constitution Act 1982, Vice President of Métis Saskatchewan Michelle LeClair, which recognizes and affirms the existing Aboriginal and Convention rights of the Aboriginal people of Canada Said in Congress, according to Global News.
"There are 80,000 Metis people in this state and their rights are being neglected," LeClair said.
The Epoch Times reached out to Sovereign Indigenous Peoples Federation and Metis Nation Saskatchewan for comment, but did not receive a response at the time of publication.
In December 2022, Bobby Cameron, chief of the League of Sovereign Indigenous Peoples, threatened a lockdown if the SFA was passed.
"We have a mandate from the head of parliament to legally move forward. [and] Politically," he said at a press conference at the time. according to CBC. "And we're getting to the point where we're about to start a lockdown."
Canadian Press contributed to this report.