[ad_1]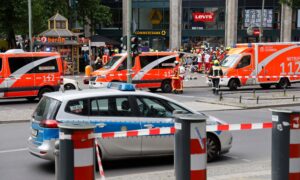 BERLIN—At least 84 people were exposed to a suspected irritant gas at a high school in southwestern Germany, according to the German news agency dpa.
Both students and teachers experienced mostly minor health hazards at schools in the town of Singen, the DPA said. After that, I had to be taken to the hospital.
Schools were evacuated and police cordoned off the area on Wednesday. It was not immediately clear whether the incident was due to a leak or an outflow.
During the fourth class, some students suddenly complained of respiratory problems, and the teacher evacuated the building and started making emergency calls. The asymptomatic student was taken to a nearby church where he was picked up by his parents, the DPA reported.
Irritant gases include ammonia, chlorine, hydrogen chloride, and sulfur dioxide. Breathing those vapors can cause respiratory problems.
[ad_2]