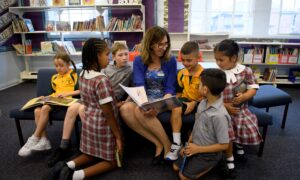 Labor has vastly underestimated how much it will cost to address historic funding shortfalls for 800,000 public school students in New South Wales (NSW), according to the state government .
Opponents have pledged to raise public school funding to 95% of key benchmarks by 2025, two years ahead of schedule.
The party's $400 million pledge is independently expensed.
But Education Minister Sarah Mitchell said the plan would cost $750 million a year.
"They've already changed cons with the announcements they've made," she told reporters.
"There's not enough money. They're either deliberately cheating or they don't understand how school funds work."
Labor has asked Mitchell to release the work behind her estimate, saying the $400 million figure comes from the independent Parliamentary Budget Office.
Mitchell's office was contacted by the AAP but did not immediately respond to a request for clarification.
Opposition leader Chris Mings has dismissed attacks about his economic entitlements.
"No matter how you look at it, the NSW government's performance has been one of the worst in memory when it comes to debt, deficits, taxes and economic performance," he told reporters.
The benchmark Schooling Resource Standard is used to estimate the total government funding that schools will need to meet the educational needs of their students.
Created in the 2011 Gonski Education Review, the model aims to fully fund private and public students by 2029.
NSW public schools will receive 92% of the estimated funding needed to meet student needs this year.
An eight-point gap equates to a $1.28 billion shortfall, or $1,550 per student, says senior economist Adam Rorris.
Education is a key issue in the NSW campaign as students and teachers return to the classroom.
Both key leaders visited schools in western Sydney on Tuesday to invoke separate promises to make COVID-19 school tutoring programs permanent.
The coalition said the plan would cost $173 million, but Labor estimated it would cost $200 million over two years.
Labor also backed a coalition plan to make preschool accessible to all four-year-olds, saying it could be rolled out sooner than 2030.
The $5.9 billion policy was the centerpiece of last year's state budget.
The 10-year program was touted as a way to get women back into the workforce faster and tackle the gender pay gap.