UK Conservative Party leader candidate Liz Truss has called Scottish independent prime minister Nicola Sturgeon a "high-profile person" to ignore.
At the August 1 summit, the Foreign Secretary criticized Sturgeon for pushing for another independence referendum.
In the first independence referendum held in 2014, Scottish voters rejected independence by 55-45 per cent in favor of remaining part of the United Kingdom.
But Sturgeon, who also heads the independent Scottish National Party (SNP), announced last month that he plans to hold another independence referendum on 19 October 2023.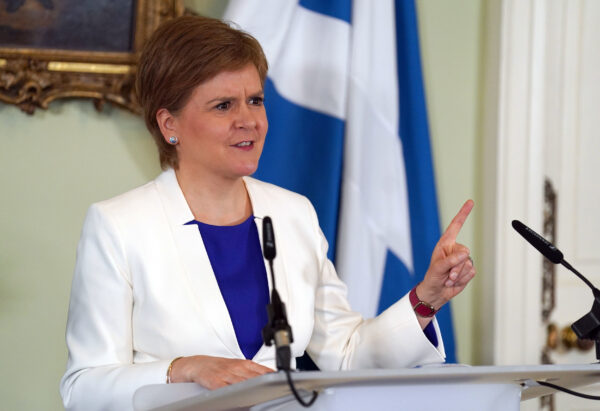 Truss, who ruled out another referendum if she becomes prime minister, has set her sights on the first minister.
"She's an attention grabber. That's who she is," Truss said.
"What we have to do is show the people of Scotland, Northern Ireland and Wales what we have to offer and make sure that all government policies apply across the UK. ' she added.
"Always moans"
Brexit Opportunity Minister Jacob Rees-Mogg, an ally of the Truss, has spoken out in support of her characterization of Scotland's nationalist leader.
He told Sky News on August 2nd: It must be provided for the Scottish people and the British government must also be provided for the Scottish people.
"I think she's often wrong. She moans all the time. We need to focus on how the Commonwealth benefits people," he added.
nationalist anger
SNP ministers reacted angrily to Truss' remarks.
Deputy Prime Minister John Swinney said the Foreign Secretary's attack on Sturgeon was "totally and utterly unacceptable".
He told the BBC: "The people of Scotland, whatever their politics, will absolutely be horrified by Liz Truss' offensive remarks."
Scotland's health secretary, Humza Yousaf, said Truss' comments were a "little jibe" but said the Tory leadership was expected to make "an all-out attack on devolution". I warned you.
"Child of Union"
Truss was born in England, but spent his youth in the Scottish town of Paisley. She described herself as a "Child of the Union" and vowed to defend Britain.
In an interview with The Sunday Telegraph, Truss said he works to strengthen and protect the union.
If she succeeds Johnson as Prime Minister, she said, "There will not be a second Scottish independence referendum under my supervision."
PA Media contributed to this report.