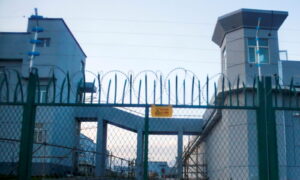 Canadian Senate Voted for Thursday's motion demanding the Canadian government to impose sanctions on Chinese authorities who persecuted Muslim Uighurs in China's Xinjiang.
The motion, submitted by Conservative Senator Leo Hosakos, imposes Magnitsky sanctions on members of the Chinese Communist Party (CCP) who participated in "human rights abuses and systematic persecution of Uighur Muslims in China." I'm asking the federal government.
"We continue to claim to be advocates of human rights and religious freedom, but at the same time we cannot pretend to see what is happening to Uighur Muslims in China. Is over. Now is the time to act. "Hosakos I have written Thursday on Twitter. "Implement Magnitsky Sanctions on the Chinese Communist Party"
During the debate in Chamber Prior to the motion's passage on Thursday, Senator Julie Miville Deschen said Uighur Muslims could not be silent about the human rights abuses they were experiencing in the hands of the Chinese communist regime.
"Uighurs forced to work in factories inside and outside the Xinjiang Uygur Autonomous Region were the most visible faces of the problem during the pandemic," said Miville Deschen.
"In addition to this forced labor, as my colleague explained, Uighurs endure torture, sexual violence against women in re-education camps, sterilization, and assimilation techniques. I'm sorry."
Ann Independent report, The statement, released in March by the Think Tank's New Lines Institute for Strategy and Policy, concluded that the Chinese Communist Party was responsible for the continued genocide of Uighur Muslims.
According to the report, the genocide is systematic, beginning with the collection of Uighur biometric data, assigning a team of party leaders to monitor them, and then their cultural, religious location, language, Destroy the poem.
The CCP then criminalized their religious practices and built and expanded concentration camps and detention centers in which approximately 1 to 2 million Uighurs were detained.
In February, a majority of parliamentarians officially confirmed that a CCP campaign against Uighurs and other Muslim minorities would constitute a genocide as a result of a 266-0 vote.
Prime Minister Justin Trudeau and his cabinet did not attend, but Foreign Minister Marc Garneau abstained from voting on the motion on behalf of the cabinet.
In the Senate, a similar motion to approve the Uighur massacre was submitted by Housakos on March 15 and discussed Thursday. However, the motion was voted to be postponed to a future date for further discussion. be called "Disappointed."
Miville Dechene is confident that the Senate can make a difference in investigating the atrocities committed by the Chinese administration.
"The Senate may not have the power to force the Government of Canada to impose sanctions on China, but we join the House of Representatives and speak out loudly about persistent human rights abuses in China. You can speak to. "