A senior Democratic Unionist Party (DUP) politician has accused the UK government of a "spin" over a new deal to replace the controversial post-Brexit trade deal.
DUP Chief of Staff MP Sammy Wilson suggested that the newly negotiated Windsor Framework was "not a big deal", but following the finalization of negotiations with British Prime Minister Rishi Snak, European A meeting with Ursula von der Leyen, Chairman of the Commission, set our sights on Prince Charles.
Wilson commented to Times Radio on Wednesday, first highlighting the so-called "Stormont brake" on the newly negotiated deal.
The mechanism puts the region in a "special" position, Sunak said, allowing Northern Irish politicians to oppose new EU goods rules.
"No brakes at all"
In an interview with Times Radio, Wilson said: It's a delay mechanism. "
He said the British government would have the final say on whether to veto the law.
"The price would be for the EU to take retaliatory action," he said, adding that he therefore suspected the "Stormont brakes" would be fairly ineffective.
Wilson added that the DUP would take its time to consider the content of the Windsor Accords rather than the government's "spin."
He declined to say whether it would take days or weeks, telling Times Radio:
"We're going back to the government. We've already identified various things that the government is claiming, but we've looked at the EU's explanations and we know it won't happen."
He added that the DUP would not have "a twisted reaction" to the deal.
"Not a big deal"
Aiming at the King's meeting with Ursula von der Leyen at Windsor Castle shortly after the UK-EU deal, Wilson said: Trade unionists will accept it on the grounds that we have great respect for the monarchy," he said.
"I think it would be very dangerous to use the monarch in the same way as before."
His critical comments were heated after negative feedback from another union lawmaker, Ian Paisley Jr.
Paisley, son of the late DUP founding member Ian Paisley, told GB News earlier this week that the new deal was not satisfactory.
"Has it changed enough, does it meet our seven tests? Obviously, we will continue to evaluate the legal framework," he told GB News.
"But I think it's somewhat insufficient to meet those tests. That's my instinct," he said.
"Thus, although the Prime Minister continues to operate the Protocol effectively, it effectively sees the ECJ's rules in Northern Ireland, subject to single market rules as opposed to full UK rules. Unfortunately, it doesn't look like power sharing will be back on track any time soon."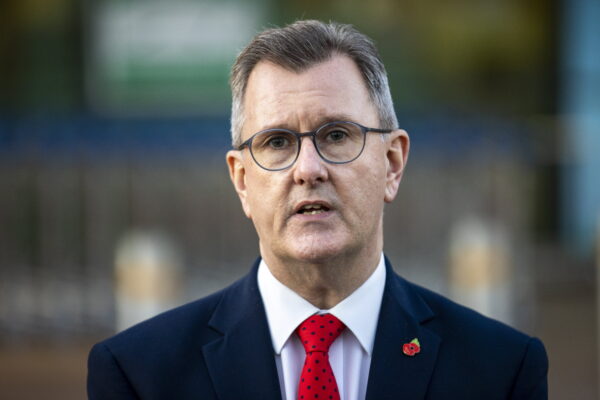 Hope for power sharing
The prime minister is giving the party "time and space" to consider the Windsor framework.
DUP leader Sir Jeffrey Donaldson, who took over as party leader against the backdrop of divisions within the party, is withholding judgment while consulting colleagues to reach a "collective decision".
Richard Graham, a senior member of the 1922 Tory Backventure Committee, said he would be "very sad" if the DUP refused to agree.
He told Sky News: Not perfect. "
Mr Sunak told Conservative MPs he was "confident" the DUP would support his deal as he acknowledged "various opinions" within the Labor Party.
The Prime Minister addressed Tory supporters at the 1922 Committee meeting in the House of Commons on Tuesday night after visiting Northern Ireland to strengthen his support.
"And I just want to tell you guys one thing: give him and the DUP time and space," said Sunak.
"So don't ask for answers right away," he added. "Also remember that the last thing the public wants is another Westminster drama."
It was argued that any resistance to the agreement would not lead to a change in the framework, as resuming an agreement that had taken months of negotiations would not be seen as a viable solution.
The DUP has virtually no veto power as there is little chance of it not being supported in parliament when it is voted on because the opposition has expressed its support.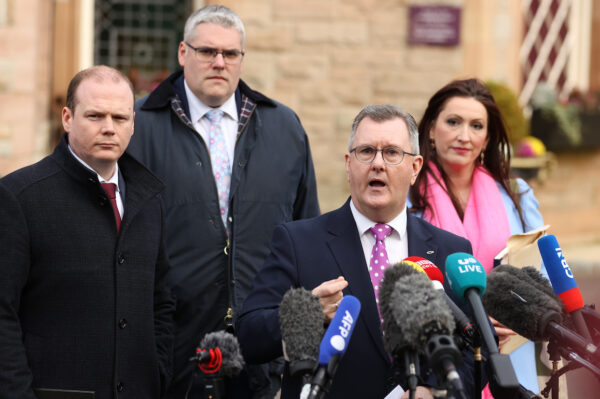 trade praise
Meanwhile, Sinn Fein president Mary Lou Macdonald once again praised the newly negotiated agreement and urged Northern Ireland's political parties to return to a fully functioning government.
At a press conference in Belfast on Wednesday, she said:
"We have had a meeting with the MLA team today as we are gearing up for the return of Congress and the return of executives."
"We believe that time is of the essence and we know that we face enormous economic and social challenges when it comes to delivering public services. We recognize that there is, and that opportunity is right here for us."
"We are satisfied that the agreements concluded are doing what is essential. This will not strengthen our island borders."
She said, "I think we have to respect people and voters who are incredibly patient and sometimes incredibly frustrated with the whole political process. We need a government and we need it now." I need that."
PA contributed to this report.