Seoul police said they arrested a 41-year-old Chinese man who tested positive for COVID-19 when he arrived at Incheon airport from China, then fled the quarantine hotel where he was taken.
Hotel camera footage shows him running from a quarantine hotel on Yeongjong Island in Incheon around 10:04 p.m. Jan. 3, shortly after he and other travelers who tested positive were taken to the facility by bus. is shown.
Police arrested a man at a hotel in Seoul around 12:55 pm on January 5. report Korea Herald.
South Korean health official Kim Joo-young said the Chinese man could face up to a year in prison or a fine of 10 million won (about $7,880) under the Infectious Diseases Control Law. said. report.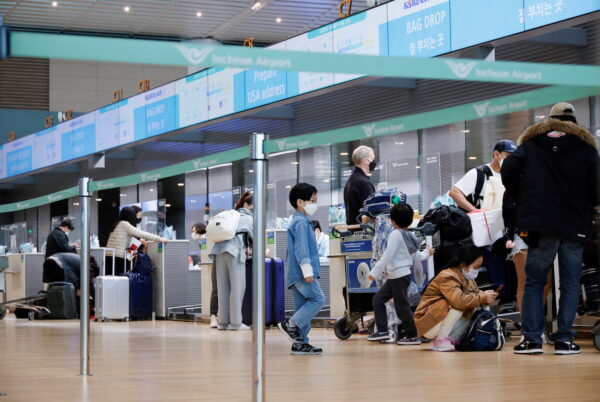 border restrictions
Starting January 2, South Korea will require all travelers arriving by air or sea from China with a negative PCR test result performed within 48 hours prior to entry or an antigen test completed within 24 hours prior to boarding. result is negative, followed by the submission of another test result. PCR test after arrival.
The Korea Disease Control and Prevention Agency (KDCA) reported that out of 327 travelers from China, 103, or 31.5%, tested positive for the virus on 4 January. report KBS World.
Between December 29 and January 3, the proportion of Chinese who tested positive for imported cases in KDCA data reached 42%, the Korea Times reported.
Start-up January 7South Korean officials say travelers from Hong Kong and Macau will also be required to submit negative COVID test results before entering the country.
China opposes measures
South Korea Restrictions Begin After China Relaxes COVID Zero Policy December 26thand announced that it will reopen its borders from January 8.
After the Chinese administration's abrupt change in COVID control policies, many countries responded by imposing restrictions and testing requirements on travelers arriving from China.
The United States also requires all travelers from China to show a negative test result for COVID-19. January 5th.
American officials were concerned about the lack of transparency surrounding the recent COVID surge in China.
At a press conference, a Chinese foreign ministry spokesperson said: Mao Ning Restrictions imposed by the international community on Chinese tourists are not "science-based" but for "political purposes", and China has taken "proportionate" and "reciprocal" measures. said to take.
Li Yan contributed to this report.