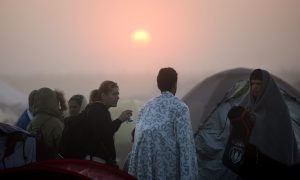 Belgrade, Serbia-Serbian police said on Sunday that they had found an illegal immigrant camp near the border between Hungary and Romania and detained a suspected smuggler.
According to a police statement, the temporary camp was found in the village of Srpski Krstur on the banks of the Tisa River. It did not identify how many migrants were found there.
A video of police on the scene showed that while special police were searching for tents and wooden sheds, some people were lying on the ground with their hands behind their heads. The footage showed a confiscated cell phone and knife.
"This smuggling gang committed criminal activity and endangered its citizens," said Interior Minister Alexander Vrin. "This is unacceptable."
Thousands of people are looking to smugglers looking for ways to reach Western Europe. From Serbia, illegal immigrants try to travel to neighboring European Union states, Hungary, Croatia and Romania. Or, first go to Bosnia, find a way to reach neighboring Croatia from there, and then head to the wealthier EU countries.
According to Mr. Vrin, smuggling suspects are involved in theft and blackmail from other migrants. Immigrants found in temporary camps will be transferred to a state center for asylum seekers in the southern part of the country, where local police and counter-terrorism authorities will take over suspected criminal activity, according to a statement.