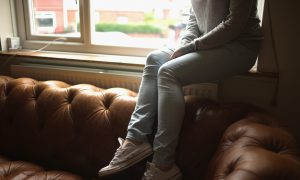 Seven alleged sexual predators have been tried for exploiting and abusing teenage girls.
Bradford Crown Court heard that at the age of 14 from 2008 to 2009, a girl in Keighley, West Yorkshire, faced a total of 17 suspects in connection with sexual exploitation. It was.
The jury was alleged that several men sexually abused and raped the girl in her home. She was often left alone at night.
Kama Merry QC on the prosecution's side said: "Her family life when she was a teenager was very sad and often left completely unsupervised, and as a result, vulnerable to exploitation.
"We say these guys … were aware of her situation, stayed alone at home, were vulnerable, and continued to use it to sexually abuse her."
Mary said the girl began to drink heavy alcohol at the age of 14 and her behavior deteriorated.
She told the court that the girl often felt "frightened" and "petrified" about a man coming to her house and sleeping with a knife under a pillow.
Police were aware of the two allegations of rape at the time, but the girl did not reveal exactly what was happening. The court heard that the man was her friend and believed she had not been exploited.
She told social welfare agencies that men who come to her house in the evening are always trying to get her to have oral sex.
Mary said: "She explained that she may have some physical strength or give them because she doesn't want to have vaginal sex."
The court heard that the girl's house had "expectations" and that the man could commit rape "without consent, with little or no resistance".
Mary told the jury: "There was a very vivid picture of a 14-year-old girl being left alone at home … and being raped many times by a man at her home."
She added: "It's easy to think that the municipality, police, and family have failed. [the girl] But this case was not about their role, but what we say was a sexual predator. "
The court heard that Nazil Khan, 28, who had no address, denied two oral rapes and told police that she had been to the girl's house but had not been sexually active.
The jury was told that Kamran Hussain, 28, from Keighley's Hawk Street, denied two counts of rape and police were told that nothing sexually happened between him and the girl.
Mary told police that the girl was thinking of Kaley's Hollins Lane Hassan Ali, 28, as her boyfriend at the time. He denied sexual activity and said it would have stopped the outbreak of sexual abuse. He denies two counts of rape.
The court heard that she believed she had something to do with Saddam Hussein, 30, of Skipton Road, Cary, who said she was "always trying to have sex with her." She told police that she thought having oral sex was "expected" and agreed to have vaginal sex with him.
He told police that everything that happened between them had reached an agreement and was unaware that she was under the age of 16 at the time. He denies five counts of rape.
Ali Razaq, 26, from Keighley's Hawk Street, has denied allegations of oral rape reported to police in March 2009. He said sexual activity had taken place but an agreement had been reached.
28-year-old Usman Sultan, who lives in Keighley's Roke Holme Lane, has denied allegations of anal rape reported to police in April 2009. Activities with girls.
Kasam Hussain, 30, a seventh defendant on Lister Street in Keighley, provided the girl with money to have sex and advised another man to drink in large quantities before being sexually abused. Has been accused of. He denied one allegation of intentionally inciting a girl under the age of 16 to engage in sexual activity and said she was not involved in the police.
The trial will continue.
Amy Murphy