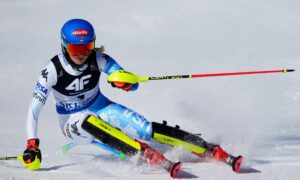 MERIBEL, France—Mikaela Shiffrin posted a solid lead after Saturday's first round to claim pole position to reclaim her slalom title at the World Championships.
The American, who won Thursday's giant slalom and won his seventh World Championship gold medal, made no mistakes, topping the timesheets with a time of 52.54 seconds.
Switzerland's Wendy Holdener was second, 0.19 seconds off Shiffrin's pace, while Canada's Lawrence Saint-Germain was just 0.5 seconds behind third.
The dominant 27-year-old Shiffrin was unbeatable in World Championship Slalom, which she won in 2013, 2015, 2017 and 2019, but had to settle for a bronze medal in Cortina in 2021.
Her coveted giant slalom win brings her tally to 13 World Championship medals, level with Sweden's Anja Persson, surpassed only by Kristol Kranz (15).
2021 slalom gold medalist Katarina Leinsberger of Austria was only 14th in her first run.
The top 30 from the first run will start the medal run, with Shiffrin going last.
"The tricky thing is if you have tracks and they start to freeze, but let's see what happens. I think it will be the same."