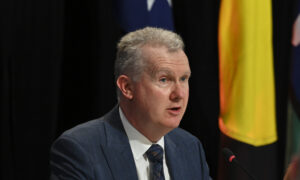 Australia's Commonwealth Workplace Minister will urge state and Commonwealth ministers to accelerate a ban on domestic use of silica due to its risk of causing incurable, progressive and often fatal lung disease.
Approximately 600,000 Australian workers are exposed to silica dust at work each year, according to the Australian Trade Union.
One-hundredth the size of a grain of sand, when inhaled, silica dust is small enough to penetrate deep into the lungs, causing irreversible lung damage.
As an important component of soils, sands and granites, it is used extensively throughout Australia in construction, tunneling, excavation, mining and road building. It is also widely used in the renewable energy sector such as thermal energy storage and solar panels.
Minister's own bill to be finalized by December
Tony Burke urged ministers to consider a ban on domestic use of silica and an import ban at a meeting on Tuesday, and expects a bill to be finalized by the end of the year.
Burke said he was confident that state and territory workplace health ministers would support an immediate ban, which would take at least 12 months.
Federal Ministers must be consented by two-thirds of the jurisdictions.
"Silica risks becoming the new asbestos," he told reporters in Canberra.
"But we've had office-to-office conversations, so it wasn't a matter of party politics between the government, Labor or the Liberals. At least before we see what the ban will look like. , there was considerable support for the concept that we shouldn't wait any longer."
Burke said the scope would include what percentage of silica in the stone would be banned.
"If you're talking about kitchen, bathroom benchtops, some of them are up to 95% silica. Others can be as low as 40% lower than regular stone." he said.
He added that Work Australia has "expertise in handling exactly where the line should be drawn".
"But wherever the line is drawn, it must be drawn to the side where people can go to work and go home without getting terminally ill."
An estimated 600,000 Australian workers are exposed to silica each year
A study by Curtin University estimates that between 80,000 and 100,000 workers suffer from silicosis symptoms each year, and about 600,000 workers are exposed to deadly dust.
"Silicosis is a serious, incurable, irreversible and progressive disease that affects the lungs," said the Australian Trade Union.
"It occurs in the body's immune response to the presence of silica dust in the small airways and small air sacs (alveoli) of the lungs, resulting in scarring of the lung tissue. Although there are no warning signs in the early stages of silicosis, As the disease progresses, symptoms such as shortness of breath, coughing, fatigue and weight loss appear."
The Construction, Forestry, Maritime, Mining and Energy Union (CFMEU) said it would take a "very rare step" to ban artificial stone from July 2024 unless the federal government took early action. .
"We cannot waste another day," said incoming CFMEU head Zack Smith.
"The fact that it is this generation of asbestos, but not banned, shows that there is nothing wrong with this product.
"Morally bankrupt businesses need to flood Australia with cheap artificial stone and send the clearest message possible."
The Dust and Disease Task Force recommended that the government begin considering a ban next July.
Safe Work Australia's report to ministers recommends three actions: education and awareness campaigns, better regulation of silica dust in all industries, and further analysis and scoping of the ban on artificial stone .
Ministers will meet again later this year to review progress.
Occupational health experts say the material cannot be safely handled despite the use of masks and other equipment.
AAP contributed to this report.