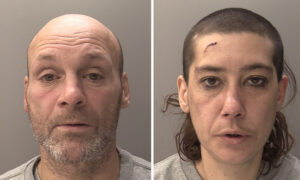 According to police, a human smuggler was imprisoned after his boat was stranded off the coast of Devon and eight migrants were on board.
Formerly from Westward, Plymouth, James Wisbay, 55, was the captain of a yacht trying to take eight Albanian citizens through the English Channel.
He was stranded off the coast of Horse Coast near Teignmouth, Devon on December 14, last year.
According to police, Withbay and his crew, Fay Miles, 38, have not been addressed and have been found guilty of conspiracy to violate immigration law.
The Southwestern Organized Crime Unit (SW ROCU) said Wisbay was sentenced to five years and four months in prison at the Excelter Criminal Court on Tuesday, and Miles was sentenced to two years in prison.
Indrit Barhani, 32, a third-party Albanian citizen whose address has not been determined, will also be found guilty of the same crime and will be sentenced to imprisonment at a later date.
Detective Adrian Hawkins, who led the investigation of SW ROCU, said: "Do it properly and don't take shortcuts."
"Hopefully, our research will ensure that there will be no next time.
"As a yacht skipper, he would have been well aware of the dangers of making that intersection on a small boat, especially in the dark, in the middle of winter, and in such rough conditions.
"His boat had no life jacket or minimal safety equipment.
"Ultimately, he and Miles prioritized the opportunity to make money over the safety of those smuggled on board.
"He was essentially a smuggler, and immigrants were nothing more than a money-making commodity for them."
Seven men and one woman smuggled into the UK via France told police that the original £ 2,000 fee had increased to £ 5,000 and on board it had increased to £ 20,000.
Officials said migrants explained their fear of sailing for more than 24 hours in a cramped, dark space under the deck without food or water.
One man said the boat broke down twice and was leaking oil.
James Le Gris of the Prosecutor's Office said:
"His dangerous behavior with the help of Faymiles caused serious horror to those on board, which could have resulted in tragedy and loss of life.
"We worked closely with the Southwestern Organized Crime Unit and our international partners to ensure that action was swift and sufficient evidence was collected to file a strong proceeding.
"These criminals endanger the lives of others and make a profit, which is reflected in the imprisonment imposed.
"We promise to bring people involved in organized immigration crimes to justice."
Claire Hayhurst