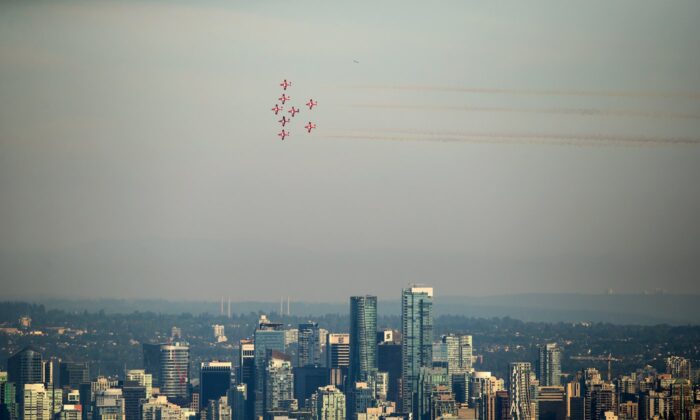 Canadian Forces Snowbirds Air Demonstration Team flying over the downtown skyline as part of the Celebration of Light fireworks display in Vancouver on July 27, 2022. (The Canadian Press/Darryl Dyck)
The Royal Canadian Air Force has ordered the jets of the Snowbird Air Demonstration Squadron to "suspend operations" after they crashed earlier this month.
Statement from Major General. Canadian Airlines 1st Division commander Ian Huddleston has said CT-114 Tutor his jet will not fly until an airworthiness risk assessment is completed.
The decision to ground the aircraft was made after one of the jets crashed at the airport in Fort St. John, British Columbia on August 2nd.
No one was injured when the pilot made a hard landing, and the Air Force said the cause of the accident is under investigation.
An Air Force statement said a careful, detailed and extensive risk analysis will be conducted to ensure the squadron's safe return to flight operations.
The assessment will include whether the accident and its causes pose a risk to continued flight operations, and what measures can be taken to mitigate the risk, it said.
"Given that the cause of this accident has not been determined by the Airworthiness Investigative Authority, we have ordered a temporary suspension of operations of the CT-114 Tutor fleet to continue the investigation and initiate a thorough operational airworthiness risk assessment process. I did," Huddleston said. Wednesday statement.
The nearly 60-year-old Tutor Jet will be in service with Snowbirds until 2030.