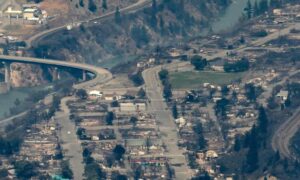 Litton, British Columbia — A search for multiple residents of a wildfire-destroyed inland British Columbia village continues today.
Public Security Minister Mike Farnworth does not say how many people in the Litton region of British Columbia are unexplained.
Given the urgency of evacuation on Wednesday evening, he says, it's hard to figure out where everyone got there.
Authorities say it is unclear if anyone remains in the village due to lack of cell service.
According to the RCMP, it is not safe to enter the area, so details about the situation in the village are inadequate, but aerial photographs show that numerous buildings and vehicles have been destroyed.
They say they will begin searching for missing or injured people on the ground as soon as they are safe.
Fernworth said that about 1,000 people who managed to escape safely when an emergency evacuation order was issued would find little left when they returned.
Meanwhile, northeastern Kamloops, British Columbia, faced the threat of a wildfire, causing evacuation on Thursday night.
It ignited during the weather and caused several lightning strikes.
Troy Grant, the platoon leader of the fire department, did not know the exact number, but about 200 people around Juniper Ridge said they had evacuated as a fast-moving fire broke into the area.
According to Grant, the local crew were heavily taxed to fight the fire, but were unaware that the building was burned or the inhabitants were injured.
According to BC Wildfire Service, there are at least 106 fires across the state, including dozens of fires that have occurred within the last two days.