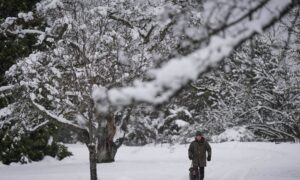 With only a week to go until the first day of spring, extreme winter conditions remain on the southern and southeastern trails of British Columbia, with snow warnings in effect for most routes.
By Tuesday morning, the elevation of the passes north and east of Hope is expected to be between 15 and 25 centimeters, according to Environment Canada.
Up to 15 cm of snow is expected along the Sea to Sky Highway between Squamish and Whistler, but conditions should ease later in the day, according to the Bureau of Meteorology.
The warning comes as Avalanche Canada raises risks on much of the south coast and southern interior.
All the fresh snow, combined with strong winds and rising temperatures, creates a "very dangerous" avalanche condition, with a large naturally induced slide likely to occur.
The high risk rating came just days after Avalanche Canada released details of the March 1 deaths of three German tourists in an avalanche near Invermere, British Columbia. 10 heli-skiers activate a powerful slide.
According to reports, the entire group was forced into a sparsely wooded area by the road of a large avalanche, with a guide and two other survivors seriously injured, and a fourth less severely injured.
Six avalanches have struck around southern BC since January, killing 12 people, and Avalanche Canada warns people to make 'conservative, low-consequence choices' when heading to the backcountry I keep doing it.