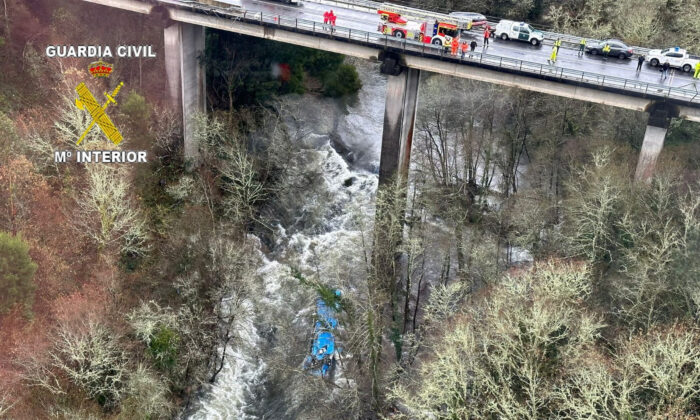 Paramedics work at the site of an accident where a passenger bus fell off a bridge into the Leres River in Serdedo Cotobade, northwestern Spain, December 25, 2022. (Distribution via Guardian Civil/Reuters)
MADRID—A bus fell off a bridge and into a river on Christmas Eve, killing six passengers and injuring the driver and one passenger, Spanish authorities said.
The blue roof of the semi-submerged car was visible on the Leres River about 30 meters (100 ft) below the bridge. Emergency services were alerted by a driver who saw a bridge railing broken while driving in heavy rain.
Spain's Guardia Civil said a total of eight people were on the bus.Two survivors were rescued Saturday night and taken to hospital.The bodies were recovered on Sunday.
Regional president Alfonso Rueda said bad weather may have caused the accident.