Parks, according to one advocacy group, are places to hang out and relax, and can now be the arena for speaking up and advocating for one's own truth and rebuilding community ties.
of "Stand in the Park" The group, which now has 100,000 members in 20 countries, has turned to alternative methods after facing harsh government reactions during Australia's strict lockdown and vaccine mandates in 2020-21. It was the brainchild of Brady Gunn who decided that there must be For people to register voices other than violent or aggressive protests.
Gunn went to an anti-lockdown and vaccine mandate protest at Sydney's Olympic Park and was shocked by the whole scenario.
"It was just a crazy protest," he said. "Cops were chasing us in circles. We've never had a situation like this before," Gunn said. "It was very chill. It really struck me that this was very real."
The 46-year-old from Sydney went home and wondered if those who were at the rally had a whole other chance.
"Overall, they didn't have much of a relationship with each other in the long run.
A support network was born
Gunn considered it a missed opportunity.
"We will be a great resource for each other," he said.
"Getting together, chatting online, meeting in person, being a network of mutual support, exchanging physical energy, hugging, and I feel so alone. Then we can meet at the park."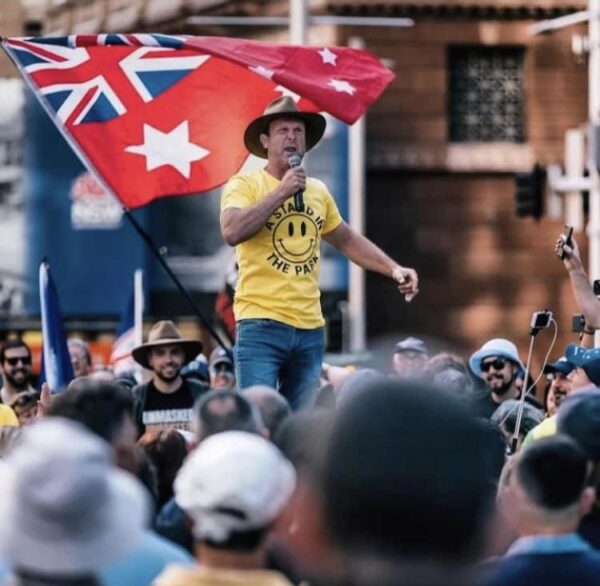 So he launched A Stand in the Park, an advocacy group that brings people together in parks around the world every Sunday from 10am-11am local time to celebrate freedom, diversity and equity. is created.
But before the group took off, Gunn says he started the group with strength and determination in the face of three months of going to the park alone every Sunday.
"I announced it every night… nobody came. Next week, same thing…" Gunn said. "And finally two came, another came, and a few more."
"There was no organizer. It was every Sunday because we weren't really going to protest. We were under one umbrella wearing yellow, no matter what." United for our cause.
About 600 groups currently visit the park every Sunday morning from Australia, New Zealand, England, Wales, Scotland, Northern Ireland, Ireland, Spain, Portugal, Canada, Malta, Germany, France and the United States.
energy point to truth
Asked if he was trying to get a message out to the government or the public, Gunn said he wanted to help people make connections amid tough COVID-19 policies and "draw their own line in the sand." said it was more important.
"I disagree with what's going on in the world right now and see through it, so I'm going to use my body to stand in that park as an energy pinpoint," he said. I'm going to show people, myself, and the government that they don't agree."
Advocacy groups and even celebrities have voiced their opposition to the coronavirus lockdown, including Australian NBA legend Andrew Bogut, and the Victorian government's response to the pandemic. called to vote for
But Gunn said he tried only to encourage people to stand up for what they believe in. He also hopes the group will allow people to come together, even if they have different perspectives on the COVID-19 vaccine, government policy, and other issues.
"We all have different pasts, spiritualities, experiences, relationships, religions, and we are all different.
"We weren't against lockdowns or COVID or governments or whatever. We stood for individual truth and freedom.
Help people find community
Gunn said there were so many inspiring stories in the process of founding Stand in the Park.
"They are always powerful," he said. "I've had a lot of people message me online or talk to me on Facebook and just cry and say, 'I'm crying as I'm writing this…'"
One of Gunn's messages to the Epoch Times described how the group was able to help reconnect after losing everything, including homes, jobs, children and friends.
" I lost my home. I lost my child. I lost my job… I lost everything. I lost all my friends, but I went to the park and made and reconnected with all these connections and realized I wasn't alone… [I made] the best friend i have ever had. I really appreciate it…" is written.
"There are a lot of stories like that… It's a really, really big story of what people have lost and the difference they've made," Gunn said, and those stories always filled him with joy.
Victoria Kelly-Clark contributed to the report.