A strong wind from Storm Malik struck northern England, killing a woman in a fallen tree.
Scottish police have confirmed that a 60-year-old woman was fatally injured by a tree uprooted in Aberdeen.
Winds of over 100 mph have been reported in parts of Scotland, causing widespread disruption to travel and power supply.
Due to strong winds and rain, weather warnings are issued throughout Scotland, northern England, and parts of Northern Ireland most of the time on Saturday.
A Scottish police spokesperson said paramedics were called to Deveron Road in Aberdeen around 10:30 am on January 29 to report the sudden death of a 60-year-old woman.
"There is no suspicion. The report will be sent to the prosecutor," police said.
On Saturday morning, Meteorologist Sean Batty of broadcaster STV wrote on Twitter:
"This is incredible strength, but it's still far from the 173mph record recorded in 1986."
Northern Powergrid said: "Storm Malik continues to move across our business areas, causing disruption to our network.
"Our team responds, recovers power, where possible, through alternative routes on the network, assesses damage, and coordinates repairs where circumstances permit."
SP Energy Networks, responsible for power transmission in central and southern Scotland, has issued safety advice on possible power outages.
Customers need to hold a battery or wind-up torch to keep their cell phone handy and fully charged, and people also said they need to be careful of power line drops.
Network Rail Scotland said it will introduce some speed limits for safety and will have additional staff equipped with chainsaws throughout the network to deal with blocked trucks.
Many services were canceled on Saturday morning, including Inverness to Thurso, Perth to Aberdeen, Aberdeen to Dundee, and Glasgow Queen Street to Oban.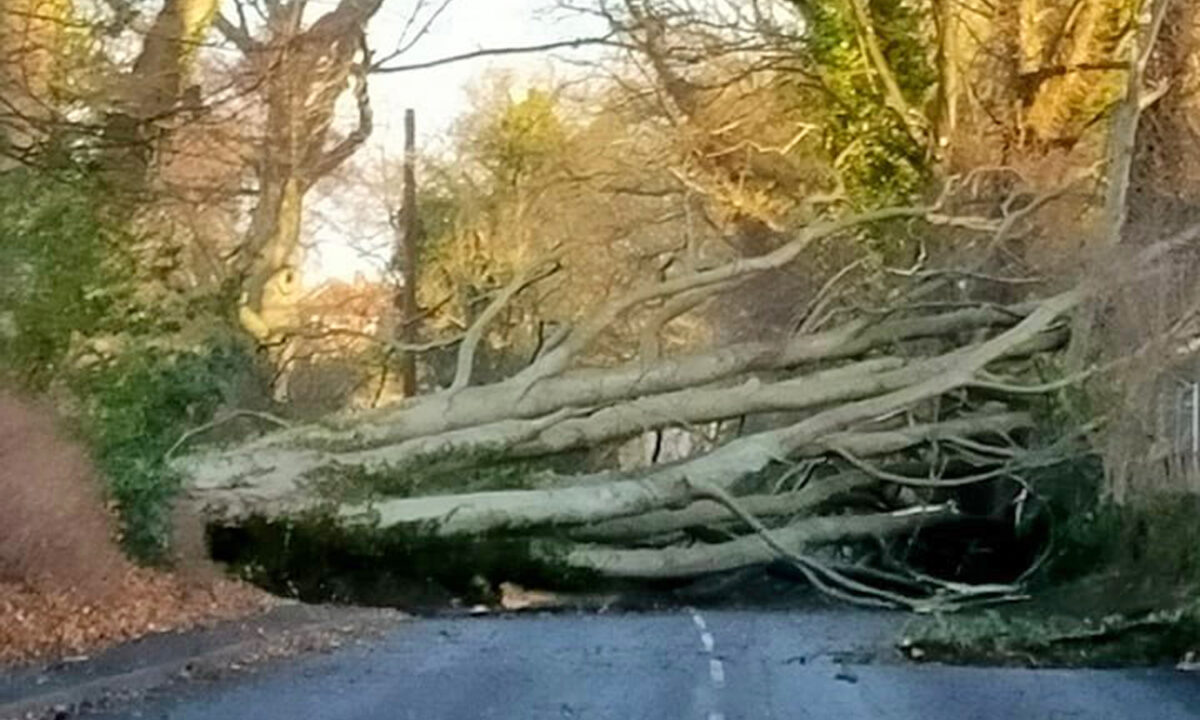 Two games of the Scottish Premiership have been postponed. Due to safety concerns around the stadium, the match between Aberdeen and St. Johnstone and Dundee and St Mirren has been cancelled.
A statement on Aberdeen's website states: "Today's match against St. Johnstone has been postponed due to safety concerns around Storm Malik and the stadium.
"We work closely with the paramedics and SPFL in the morning to closely monitor the situation in the hope that the situation will improve so that we can stage the match, but in the end the supporters, players, Staff safety is our primary concern, and we ask everyone to continue to follow the guidance given by the Scottish Police. "
The Scottish Premiership has confirmed that the Dundee match at Denspark has been turned off due to strong winds.
The championship game between Arbroath and Partick Thistle has also been cancelled and no new date has been set for the game.
Paul Ganderson, Chief Meteorologist at the Met Office, said: Move east on Saturday.
"For people in the north of England, strong winds and rains can occur on Saturdays, and showers can be winter in the highlands of the north.
"We expect the strongest winds in the exposed coastal areas of northern and eastern Scotland, but for most people it will be a windy day."
Very strong winds are expected as another cyclone moves across the northern region on Sunday and may snow in parts of Scotland.
In the north of the UK, another yellow warning about the wind is issued from 6 pm Sunday to noon Monday.