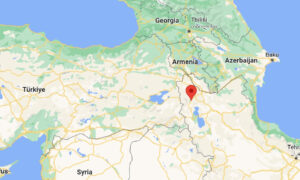 DUBAI — An earthquake with a magnitude of up to 5.9 struck the Turkish-Iranian border region on Saturday, destroying homes in a major Iranian provincial city, Iranian media and the European Mediterranean Seismology Center (EMSC) reported.
"The amount of destruction of some houses and buildings in Hoi city is relatively high," Mojtaba Khaledi, a spokesman for Iran's emergency services, told YJC news agency.
According to EMSC, the quake had a magnitude of 5.6 and a depth of 10 kilometers. Iranian media said the earthquake, with a magnitude of 5.9, hit near Hoi city in Iran's West Azerbaijan province.
Iranian emergency officials said rescue teams had been dispatched to the area and hospitals were put on alert, according to state media.
Emergency officials told state television that snow had fallen in some areas affected by the quake and there had been some power outages in freezing temperatures.