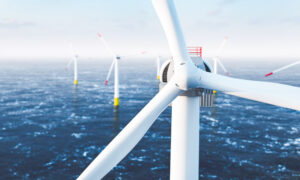 If Australia wants an offshore wind industry, companies and governments will need to find skilled workers to plan, design and build it.
Flotation Energy, an offshore wind development company competing in a tight global labor market, and the University of Melbourne have struck a deal to produce job-ready graduates and reskilled workers to exit the coal industry.
Students will participate in the development of Flotation Energy's Seadragon project, Australia's first offshore wind farm in Bass Strait.
Once developed, Seadragon is expected to power up to 1 million homes and replace coal-fired power generation.
Professor Franck Bethel of the Faculty of Engineering and Information Technology said the partnership announced Wednesday will pave the way for innovation, education and research in important new industries.
"By pooling our expertise, we will not only support offshore wind energy production and reduce Australia's carbon footprint, but also prepare job-ready graduates and future leaders." he said.
Offshore wind projects across the country are expected to create thousands of construction jobs over the next 15 years and provide a continuous new energy role when they become operational.
As is often the case elsewhere in the world, experts say Australia has a latecomer advantage, lower technology costs and new legislation that provides investment and regulatory certainty.
Power lines and large batteries are also essential to connect offshore wind to a grid that aims to be 82% renewable by 2030.
The Gippsland Zone off Victoria's La Trobe Valley is expected to be Australia's first electrified area, while the Hunter region in New South Wales has the potential for world-class offshore wind. It is one of six priority regions nationwide.
French energy giant EDF's renewables arm last month bought the Newcastle offshore wind project, which also needs workers.
To provide a range for the team to move from project to project, the South Seas region off Portland, Victoria, the Bass Strait region in northern Tasmania, and the Indian Ocean region off Perth/Banbury have been allocated.
Martin Tomko, an associate professor of spatial information at the University of Melbourne, said Seadragon, which is set to begin construction in 2028, will have the opportunity for students and researchers from multiple disciplines to participate.
"They will gain valuable exposure and skills in many aspects of the offshore wind sector, including structural and digital infrastructure engineering, seafloor mapping and environmental monitoring," he said.
Adjacent to an oil and gas platform, this 1.5 gigawatt project is expected to bring in $6 billion in investment to the Gippsland region.
Australia is part of an international coalition aiming to have at least 380GW of global offshore wind capacity by 2030.
But, according to the International Renewable Energy Agency, we need to grow it to over 2,000 gigawatts by 2050 to limit global warming to 1.5 degrees.
Australia's energy market operators have warned that without urgent investment to replace coal-fired power plants, the reliability of the country's grid will be questionable over the next decade.