Rural hospitality students in New South Wales (NSW) with Princess Anne, who had a unique work experience and was touring the Royal Easter Show, a symbolic celebration of Australian country culture. I will meet you. Year.
100 students from rural New South Wales are now working in a two-day student-run cafe on the show's joint initiative of the Ministry of Education and the Royal Agricultural Association of New South Wales.
Students attracted up to 80,000 visitors a day and often helped to accommodate larger crowds than their hometown.
The students worked from 8 am to 3:30 pm and were responsible for all aspects of the cafe, closely monitored by experts in the field, from preparing meals to servicing in front of the house.
Liam Stewart, a student at Monaro High School, said the event was important for hospitality students.
"We were able to see how the kitchen works and work in such a highly regarded facility," Stewart said. Said..
"It was also a great opportunity to connect with peers outside the context of the school."
James Armitage, Principal of Monaro High School, trekked 400 km, giving 10 students in his school a valuable opportunity.
"Students based in the metropolis of Sydney often have many options to complete the work experience required for subjects such as hospitality, but in rural and remote areas the options are limited. "Masu," Armitage said.
"They were not only given the opportunity to complete the elements of the hospitality course's work experience, but also to become leaders, make decisions and mistakes, and experience what they see in the'real world'workplace. "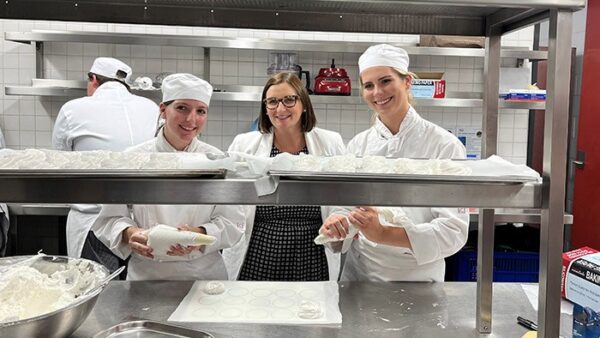 Another highlight for the students was the encounter with Princess Anne. Princess Anne put Royal at the Royal Easter Show when she visited her student cafe.
"There was a lot of nerves, but the princess was cute and very grounded. It was very exciting to see her not only as a local student but also as an indigenous people, and that's me. I really solidified that my education was worth it, "Stewart said.
The show is held annually, except in 1919 during the Spanish flu epidemic, 1942-46 during World War II, and 2020 during the 2020 CCP virus pandemic.