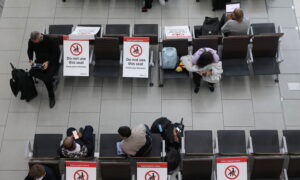 Paris — Travelers trying to board a train from Paris to London on the day the British quarantine rules expire, calling them "ridiculous," "cruel," and "inconsistent" on Monday. I was upset by the last-minute decision to keep them. "
People arriving from France need to be quarantined at home or in other accommodations for 5-10 days, even if they are fully vaccinated with COVID-19, the government said Friday.
The fact that Britain abolished most coronavirus restrictions on Monday made it even more painful for those trying to check in to Eurostar at Gare du Nord in Paris.
"It's inconsistent and … frustrating," said Vivien Saulais, a 30-year-old Frenchman on his way back to the UK where he lives after visiting his family.
"I am forced to carry out a 10-day quarantine while the UK Government lifts all restrictions and adopts a herd immunity policy."
The United Kingdom has reported far more COVID-19 cases than France due to the epidemic of the first identified delta variant in India, but few cases of the first identified beta variant in South Africa. The government said it maintains quarantine rules for travelers from France. This is due to the beta version in France.
The death toll from COVID-19 in the United Kingdom is 128,708, and it is predicted that new infections will increase daily shortly after the peak of the second wave of the virus earlier this year. There were 48,161 new cases on Sunday.
However, more than its European peers, 87% of the UK's adult population is vaccinated once and more than 68% are vaccinated twice. About 40 deaths per day are only part of the peak of over 1,800 in January.
"It's totally ridiculous because there are so few betas in France," said Francis Beato, a 70-year-old Englishman who traveled to France to meet his partner but shortened his visit to allow time for quarantine. I did. "It's a little cruel."
French officials say the majority of beta cases come from the overseas territories of La Reunion and Mayotte, not from mainland France.
"I don't think the UK decision is entirely scientifically based. France's Under Secretary of Europe Clement Beaune told BFMTV.
Emily Delward