[ad_1]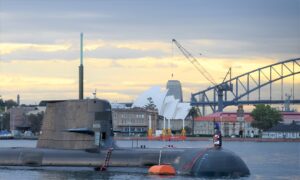 Australian opposition leader Peter Dutton urged the government to speed up the process of acquiring a nuclear submarine as part of AUKUS's security agreement.
After heightened tensions in the Indo-Pacific region, Dutton said it was important to condense the timeline around the vessel.
This was after Defense Minister Richard Mars flagged an announcement about whether Australia would buy US or British submarines as part of AUKUS in the first quarter of 2023.
After that, it will be decided when the new ship will be operational.
Dutton said it was important to accelerate cooperation on this issue.
"Under the coalition government, an agreement was reached and we fought really hard and negotiated a very difficult debate," he told Sky News on Sunday.
"We think we've got the best possible results. The Labor Party is currently planning to do it, and hopefully they won't get in the way.
"The very clear feeling I got from the discussion with the (US) administration here is that things are getting worse in relation to China, so I hope they can really condense the timeline. . "
read more
Chinese authorities promise to repay after crushing bank deposit protesters violently
Comments were received when Dutton attended the Australian-American Leadership Dialogue in Washington.
Marls also attended the bipartisan event, and one of the topics discussed with American officials was the AUKUS key.
Opposition leaders supported the Labor Party in conducting submarine transactions, but said defense spending could recede.
"At this point, there are a lot of rhetoric about AUKUS that the Labor Party thinks are okay, but I'm worried that it might be mixed with crab-like messages coming back from the submarine deal," he said. .. "But take them at face value. We support them based on that."
Australia's first submarines to be acquired as part of the contract are not expected to be underwater until the late 2030s.
There was growing concern about Australia's capacity gaps before new submarines were available to replace the aging Collins-class submarines.
Andrew brown
[ad_2]