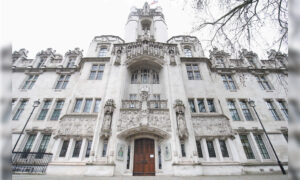 The UK government's senior lawyer will launch a Supreme Court challenge over two bills unanimously passed by the Scottish Parliament.
In March, Holyrood unanimously passed the UN Convention on the Rights of the Child (Incorporation) (Scotland), which would incorporate the UN Convention into Scots Law.
Scottish Secretary Alister Jack has expressed concern that the law could impose legal obligations on British ministers. This is outside the authority of the Scottish Government.
Before the bill was passed, Jack sent a letter to Deputy Prime Minister John Swinney asking for changes to prevent it from being applied to laws passed by the British Government or British Ministers.
However, after the bill was not amended, Jack said the matter would be referred to the Supreme Court.
Beginning Monday, statutory bids filed by the Attorney General and the Scottish Attorney General assess whether certain parts of the bill are outside the authority of the Scottish Parliament.
The European Local Government (Corporate) (Scotland) bill, also unanimously passed by the MSP, raised similar concerns.
The UK Supreme Court will consider a bill that incorporates an international treaty that Britain has signed Scottish law.
Over the course of two days, the Supreme Court will also consider whether the bill grants Scottish courts extensive authority to scrutinize the law passed by the British Parliament.
Scotland's Lord Advocate, Dorothy Bain QC's new position, and Wales' legal counsel are responding to the proceedings.
Prime Minister Nicola Sturgeon has previously called the move "morally disgusting" because the SNP has accused the British government of trying to break the law to protect children's rights.
However, Jack reiterates that the issue of the bill is purely based on the possibility of the Scottish Parliament's overkill and not on the content of either bill.
A spokesperson for the UK Government said: "The British Government's law officer has submitted two bills from the Scottish Parliament to the Supreme Court under Article 33 of the Scotland Act 1998.
"The concern of British government lawyers is not about the content of the legislation, but about whether some are beyond the legislative capacity of the Scottish Parliament.
"We will fully explain our proceedings at the hearing."
The case will be heard by five Supreme Court judges and will end on Tuesday, with the decision pending at a later date.
Jess glass