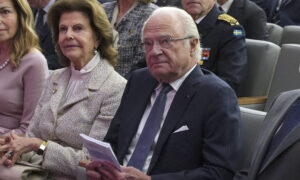 STOCKHOLM — Sweden's King Carl XVI Gustaf will undergo a planned keyhole operation in his "heart," the palace announced Tuesday.
The official announcement did not elaborate on the nature of the surgery. It is not known that the king had previously undergone surgery for serious illnesses.
After surgery scheduled for February 20, the 76-year-old monarch will take a period of rest and public duties scheduled for this month and early March will be postponed until later this spring, the royal family said.
"The King is doing well and the official program leading up to the date of the surgery is proceeding as planned," the royal family said in a statement.
The King took the throne on September 15, 1973 and is Sweden's longest-reigning monarch. Later this year, the King will celebrate the 50th anniversary of his accession to the throne.
The royal family is very popular in Sweden. The monarchy enjoys wide support despite the egalitarianism that characterizes the society of the Nordic countries.