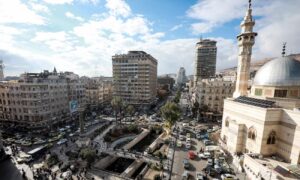 At least five people have been killed in Israeli airstrikes that hit the Syrian neighborhood of Damascus, known to contain heavily guarded Iranian installations, according to Syrian state news.
Syrian state media SANA, citing military sources, reported that Israel carried out airstrikes on targets in several areas of the Syrian capital just after midnight on Sunday morning.
Around 12:30 am local time, a loud explosion was heard over the capital.
The strike hit the densely populated Kafr Suzha district in central Damascus. The area is a heavily guarded area that residents say is home to several Iranian security agencies, including a major cultural center. This district was where Imad Mohniyeh, the pro-Iranian Hezbollah chief, was killed in his 2008 bombing.
At least five people were killed, one of them a soldier, SANA reported, citing military sources. At least 15 more people were injured, some in critical condition. Sources said the missile was launched from directly below the Golan Heights.
According to Arab News, videos posted by state media showed the 10-story building badly damaged and the structures on the floors below crushed.
The Syrian army said in a statement that the rocket attacks "damaged several civilian homes and caused property damage in many areas in and around Damascus."
According to SANA, Syrian air defense forces "faced hostile targets in the skies around Damascus."
Israel has carried out hundreds of airstrikes in state-held areas of Syria for almost a decade. However, Israeli officials rarely take responsibility for or discuss specific operations.
Israeli airstrikes often target sites around Damascus. Tel Aviv has said the targeted strikes in Syria are part of an effort to resist the Iranian regime's foreign interference in Syria. Iran's proxy militias, led by Lebanon's Hezbollah, now have influence in eastern, southern and northwestern Syria, and several suburbs around Damascus.
Israel has admitted targeting the bases of an Iran-allied militant group that has sent thousands of fighter jets to support Syrian President Bashar al-Assad's forces. , has never publicly acknowledged that the Iranian military is acting on his behalf in the Syrian civil war, and says he only has military advisers in Iran.
The Israeli military has not issued a statement on the latest attacks. It was not immediately clear whether the strike was aimed at specific individuals.
Sunday's early airstrikes were the first since a devastating magnitude 7.8 earthquake hit Turkey and Syria on February 6. The death toll from the earthquake exceeded 46,000.
The last reported attack on Damascus was January 2nd. The Syrian Army said two soldiers were killed and two wounded after Israeli forces fired missiles at Damascus International Airport, temporarily suspending services.
Israel has stepped up attacks on Syrian airports and air bases in recent months, thwarting suspected attempts by the Iranian regime to flow weapons into Syria.
Reuters and Associated Press contributed to this report.