Taiwan on Friday welcomed a sixth future arms deal with the United States under the Biden administration, including anti-ship and air-to-air missiles, amid China's military threats.
The U.S. Defense Security Cooperation Agency (DCSA) said in a statement that it had submitted the necessary certifications to notify Congress of potential arms sales totaling $1.16 billion.
it contains 100 Sidewinder anti-aircraft missiles and four tactical guidance units worth $85.6 million; 60 Harpoon $355 million for anti-ship missiles and four Harpoon exercise missiles, $665.4 million Surveillance radar system.
The three contracts also include related military equipment, parts, and technical and logistical support services, according to DCSA.
The DCSA said the proposed arms sale "does not change the fundamental military balance in the region."
Taiwan's presidential office said the arms sale would help the island nation strengthen its self-defense and deal with China's military pressures surrounding its border.
"While we will not escalate or provoke conflict, Taiwan will firmly demonstrate its determination and ability to defend itself in defense of national sovereignty," the Secretariat said. statement.
US takes 'limited approach' to Taiwan
The US-Taiwan Business Council said it opposes the US taking a "limited approach" to arms sales to Taiwan.
"As the People's Liberation Army (PLA) recently demonstrated in its mock blockade, the island faces a variety of threats that require a variety of capabilities," said Council Chairman Rupert Hammond Chambers. statement.
"The denial of the island's ability to mount a full defense will, over time, create new gaps in Taiwan's defenses available to the PLA. The United States' current policy of strategic obscurity We are not allowing the U.S. to make it clear that those gaps will be filled when they arise," he added.
President Joe Biden has said Washington will defend Taiwan if China attacks, but US policy towards Taiwan has not changed.
Washington does not support Taiwan's independence and opposes unilateral changes to the status quo by either side, but will still provide Taiwan with the capabilities it needs to maintain its defenses.
Taiwan's countermeasures against China
Taiwan's military shot down for the first time an unidentified civilian drone that entered airspace near an island near the Chinese city of Xiamen on Thursday after the Taiwanese government pledged tough measures against a rise in intrusions.
Taiwan's Premier Su Tseng-chang said Taiwan had repeatedly issued warnings and asked the Chinese Communist Party (CCP) "not to intrude on our doorstep."
"They repeatedly ignored our warnings to leave and had no choice but to defend themselves and open fire," Sue said. "This is the most appropriate reaction after repeated restraint and warning."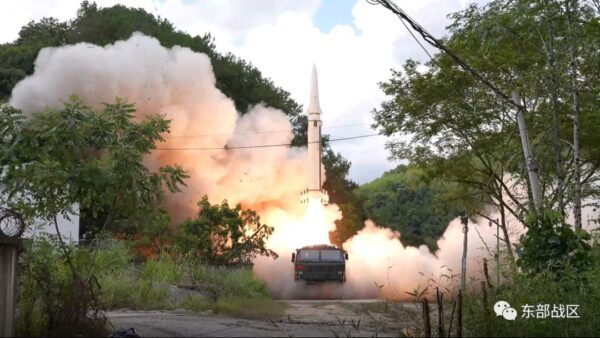 China has been conducting military exercises throughout August, including missile launches over Taiwan and a temporary trade blockade of Taiwan. The exercise began shortly after House Speaker Nancy Pelosi visited Taiwan last month.
Since Pelosi's visit, CCP forces have tried to normalize air and sea incursions around Taiwan. Since then, footage of Chinese drone missions has been widely circulated on Chinese social media, with some showing Taiwanese soldiers in a garrison and throwing rocks at drones.
Andrew Thornebrooke and Reuters contributed to this report.