Taiwan, Taipei — In 2022, China has shown no signs of mitigating the attack on Taiwan after Chinese troops sent 39 military aircraft into the island's Air Defense Identification Zone (ADIZ) on January 23. ..
The latest intrusions included 34 J-16 and J-10 fighters, one H-6 bomber, and four aircraft with electronic warfare capabilities. according to Ministry of Defense of Taiwan. In response, Taiwanese troops scrambled fighters, issued radio warnings, and deployed air defense missile systems to monitor their activities.
China's air defense identification zone has advanced into the island's ADIZ since the Taiwan Ministry of Defense began releasing information on intrusions in the midst of such a significant increase in flight numbers in September 2020.
According to the ministry, there were about 380 sorties in 2020. That number doubled to about 961 sorties in 2021. Last year, the Chinese government's largest show of force took place on October 4, when 56 military aircraft suffered the island's ADIZ.
So far this month, the ministry has not reported an outbreak of China's invasion in just five days.
The Chinese Communist Party is trying to exhaust Taiwan's air force with repeated air force invasions. More importantly, the communist government wants to threaten and subdue the island. This allows Beijing to take over Taiwan without having to resort to a military conflict.
However, war has always been an option for the Chinese government, as it has never abandoned the use of force against autonomous Taiwan. Last October, Taiwan's defense minister warned that Beijing could launch a full-scale invasion of the island by 2025.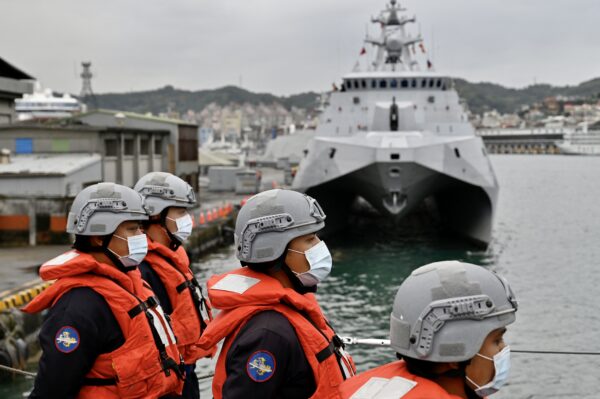 Lin Ying-yu, an associate professor of Asia-Pacific affairs at National Sun Yat-sen University in Taiwan, told the local news agency Central News Agency that Sunday's invasion was Japan's military activities in the United States and the waters near Japan.
For six days until January 22, 10 US warships, including the USS Carl Vinson and USS Abraham Lincoln, destroyers, and amphibious assault ships, participated in a joint exercise with the Japan Maritime Self-Defense Force. according to Japanese media outlet NHK. The exercise was conducted in the waters south of Okinawa Prefecture.
On January 24, the Maritime Self-Defense Force wrote: twitter The joint exercise was "strengthening the capacity of the Japan-US alliance for effective deterrence and response," he said.
Another US aircraft carrier, USS Reagan, has returned to Yokosuka, Japan, after several months of deployment. according to US Navy Naval Sea Systems Command.
In early January, at an online defense conference by top executives from Japan and the United States, Secretary of Defense Lloyd Austin nominated China as a threat to the Indo-Pacific. according to Pentagon.
"We seek the challenges posed by North Korea's nuclear ambitions and the compulsory and aggressive actions of the People's Republic of China against the backdrop of heightened tensions and the challenge of a free, stable and safe Indo-Pacific region. "." Austin said.
China's aerial invasion on October 4, last year, coincided with similar US Navy activity. according to From October 2nd to 3rd, 2021, the US Navy Institute participated in a joint naval exercise near Okinawa in six countries: Canada, Japan, the Netherlands, New Zealand, the United States, and the United Kingdom.
Seventeen surface ships participated in the training, including four aircraft carriers, USS Ronald Reagan, USS Carl Vinson, British HMS Queen Elizabeth, and Japanese helicopter carrier JS Ise.