The chairman of the world's second-largest microchip maker announced a $100 million donation to Taiwan's government on Aug. 5 for defense against China after Beijing launched large-scale military exercises around the island. .
"$100 million is not a lot of money to buy a weapon," said Robert Tsao, founder of chip maker United Microelectronics (UMC), who now lives in Singapore, at a press conference in Taipei. "I hope that the people of Taiwan can wake up from their greed for money and fear of death, and fight to defend their freedom, democracy and human rights."
Cao said the Chinese Communist Party (CCP) worships "totalitarianism, deceit, hatred and violence", that its members are "hooligans and rogues", and that the regime is an "underworld".
The heavyweights denounced Beijing's military drills and used them as retaliation for House Speaker Nancy Pelosi's visit to Taiwan on August 2nd and 3rd. Power. "
The Chinese government claims the island as its own, even though Taiwan is a de facto independent country with its own military, democratically elected government and constitution.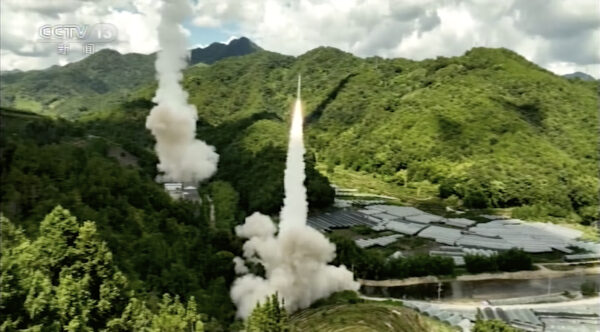 individual donation
Cao said he donated the money because he saw dangerous phenomena in Taiwan as Beijing launched a cognitive war, a psychological war and a public opinion war against Taiwan on the island.
"Many Taiwanese will become ostriches [when facing China]"They think China won't go to war unless Taiwan gets angry," said a 75-year-old businessman.
He then named two other groups. People who think Taiwan is not strong enough to compete with China and want to surrender to save their lives. Those who think that if Taiwan becomes part of China, it will be protected by a superpower.
As someone who has invested in China for decades, Cao warned the people of Taiwan that the Chinese regime was lying.
"Look at the brutality and arrogance of the murders displayed by the Chinese Ministry of Foreign Affairs, the Taiwan Bureau and President Hu before and after Pelosi's visit to Taiwan. [journalist]' said Tsao. "China's lies, including the Taiwanese and the Chinese, are brothers, and the lie that the Chinese won't join the battle with the Taiwanese will stand no test."
Cao said he was not interested in politics. He is donating to keep Taiwan a clean land for Chinese speakers around the world.
He quoted the lyric "The Land of the Free, Home of the Brave," from the US national anthem, "The Star-Spangled Banner," and said, "Freedom belongs to the brave. The coward is enslaved."
Robert Tsao
Born in mainland China, raised in Taiwan and holds Singaporean citizenship, Tsao founded UMC in the early 1980s and has grown it into the second largest semiconductor chip OEM in the world.
In the late 1990s, Cao wanted to invest in mainland China. At that time, he routinely supported the Chinese authorities. In the past 20 years, he established his two UMC factories in China. One in Suzhou city in eastern China and his other in Xiamen city in southern China. People believe that Cao should support Beijing because his company invested in China.
of interview After stepping down from his senior position at UMC in December 2019, Cao told Wealth Magazine, "If I could start over, I hope I wouldn't have to go to the mainland to help start up the factory."
Cao did not elaborate on his experiences in China, but has since championed Taiwan's freedom and democracy.
In March he publicly urged For Taiwanese citizens to protect the island rather than relying on foreign power. His two sons have Taiwanese citizenship, he said. "If there is a clash in Taiwan, both sides will come back to fight off the PLA[People's Liberation Army]."